It's official! Montreal is the world's best student city
Concordia's hometown moves up six spots to top the 2017 QS rankings
Posted on February 15, 2017
|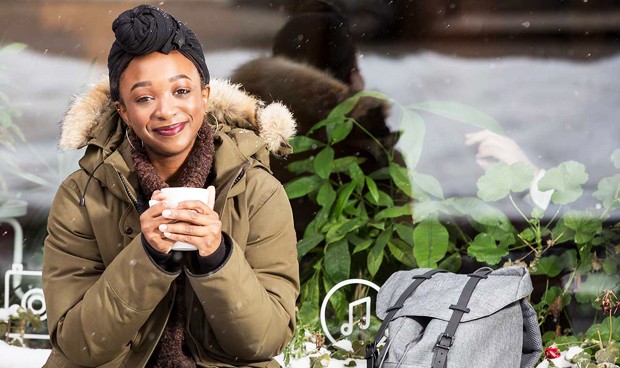 "When I first visited campus, I felt the students showed exactly what Concordia offers: a very diverse, open-minded, open-hearted space," says undergrad Arielle George, originally from the Washington, DC area.

The results are in! Montreal is the best city in the world for students, according to the latest rankings by Quacquarelli Symonds (QS).
Concordia's urban home jumped six spots to claim first place, ahead of Paris, London, Seoul, Melbourne, Berlin and Tokyo.
As the university's president Alan Shepard stated in the Montreal Gazette, the city's strong showing starts with Canada. The country's education lure is no mystery.
"Our universities do well in international rankings," he says. "We have the lowest cost of living and highest quality of life among G7 countries. The QS ranking reaffirms this."
Matthew Stiegemeyer, director of student recruitment, says he's not surprised by Montreal's rise to Best Student City. "Certainly the increased interest we're seeing from applicants suggests that word is getting out," he says.
It's the fourth year in a row that Montreal has climbed in the rankings. In fact, four of the five Canadian cities on the list have moved up. QS singles out "recent political events" in the United States and the United Kingdom as a contributing factor in Canada's growing desirability as a student destination.
That makes sense to Stiegemeyer. "I think if you're an international student looking for a welcoming place to be, you're looking for a city that embraces a diverse population," he says.
Third-year English literature major Arielle George, originally from the Washington, DC, area, says the welcoming atmosphere is what convinced her to move to Montreal.
"When I first visited campus, I felt the students showed exactly what Concordia offers: a very diverse, open-minded, open-hearted space," she says.
QS's Best Student City rankings also reference Montreal's affordability and a "recent renaissance" as key components of the city's success this year.
According to QS, nabbing the top spot is "the latest of a series of propitious signs for a city beginning to escape a period of economic stagnation, following positive growth forecasts for 2017, citywide initiatives designed to encourage entrepreneurship, and the recent announcement of its selection as the 'World's Most Intelligent City.'"
Why did you choose Montreal?

Anuschka Wright (Nassau, Bahamas)
Alumna
Jazz Studies (BFA 16)
"When you compare the price of an apartment in Montreal to New York City, it's a no-brainer."

Ana Maria Medina Ramirez (Bogotá, Colombia)
Master of Applied Science, Mechanical Engineering
"There are lots of opportunities to do innovative research."

Vy Vy Nguyen (Ho Chi Minh City, Vietnam)
Bachelor of Arts, double major in Communication Studies and Human Relations
"It's the artistic hub of Canada, very rich in history, culture and architecture."

Tristan Chonavel-Weakley (Los Angeles, United States)
Bachelor of Commerce, Finance
"I wanted to experience leaving home for school and I wanted to go international — and have the chance to speak French. To me, Montreal was a no-brainer."

Alison Bertho (Paris, France)
Bachelor of Arts, Journalism, with a minor in Human Rights
"My first goal in coming here was to discover new things. In Montreal, I discovered new cultures through my friends who come from all different parts of the world, and I love that."

Noraldin Al-Deri (Amman, Jordan)
Alumnus
Biochemistry (BSc 2016)
"What I wanted to experience was diversity. When you're around people with different opinions, you grow."

Michel Thierry Bayiga (Yaoundé, Cameroon)
Alumnus
Political Science, with a minor in Sociology (BA 15)
"You cannot get bored here. There's always lots to do, with free concerts and festivals all year long."

Apply for admission to Concordia. The deadline for undergrad applications is March 1.
Need a little help? The Welcome Centre's application clinic runs from 9 a.m. to 6 p.m. on weekdays from February 20 to March 1.