Cléa Desjardins
Senior Advisor, Media Relations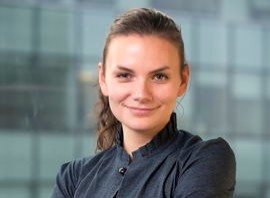 Cléa joined the Media Relations department in January 2012. Prior to that, she spent a little over two years as the communications advisor for Concordia's Faculty of Engineering and Computer Science. She holds a Bachelor of Arts in English Literature from McGill, and a Master's in English from Oxford.
Cléa initially came to Concordia by way of the McGill University Health Centre Foundation, where she served as Communications and Donor Relations Associate. She has also acted as Office Manager at McGill's Office for Research Opportunities, Website Assistant for McGill's Department of English, and Production Coordinator on various television productions in her native New Brunswick.
As Senior Advisor, External Communications, Cléa works to "translate" the work of academics across the university, making the complex work that goes on at Concordia more accessible to the broader community.
---
Contact
Phone: 514-848-2424 ext. 5068
clea.desjardins@concordia.ca
@CleaDesjardins