Annual 1916 Rising Commemoration (NEW VENUE)
What: Annual 1916 Rising commemoration sponsored by Friends of Sinn Fein (Canada) and the Coalition for Peace in Ireland (Montreal). Guest speaker Irish Senator Rose Conway Walsh (Sinn Fein)
When: Thursday, April 18, 2019, 5:15-7:30 pm
Where: NEW VENUE - Hurley's Irish Pub (upstairs), 1225 Crescent
Info: Suggested contribution - $10 ($5 for Concordia Irish Studies students); For more information - Kevin Callahan 514-398-2950

Siamsa - Céilí
What: Siamsa's final céilí of the 2018/19 season
When: Saturday, April 27, 2019 from 8 pm to midnight (doors open at 7 pm)
Where: NDG Legion Hall, 5455 de Maisonneuve West, H4A 1Z7
Info: http://siamsa.org/en/ceilis

Cine Gael Film Series - Screening of Michael Inside (2017) and closing reception
What: The Cine Gael film series concludes with a screening of Michael Inside (2017), directed by Frank Berry. The screening will be followed by the closing reception
When: Friday, May 3, 2019, 7:15 pm
Where: DeSeve Cinema, Concordia University, 1400 de Maisonneuve West, Ground Floor
Info: More info and trailers can be found here

Pensions by Jim Olwell - Montreal book launches
What: Irish-American/Canadian poet Jim Olwell is publishing a second book of poems entitled Pensions. There will be two Montreal launches of the collection
When and where:
May 9, 2019, 7 to 8:30 pm
Shaika Cafe (5526 Sherbrooke W.)
June 6, 2019, 7 to 8:30 pm
Argo Bookshop (1915 St. Catherine W.)
In these seventeen poems, Jim Olwell takes readers into the ballparks and boxing gyms of his early years in the Bronx, and the community centres of Montreal where he has worked for the past forty years. We meet lost boys and inspirational teachers, great artists (Beckett, Rodin, O'Neill), strangers struggling through their days without pensions—and necessarily, life and love's natural departures.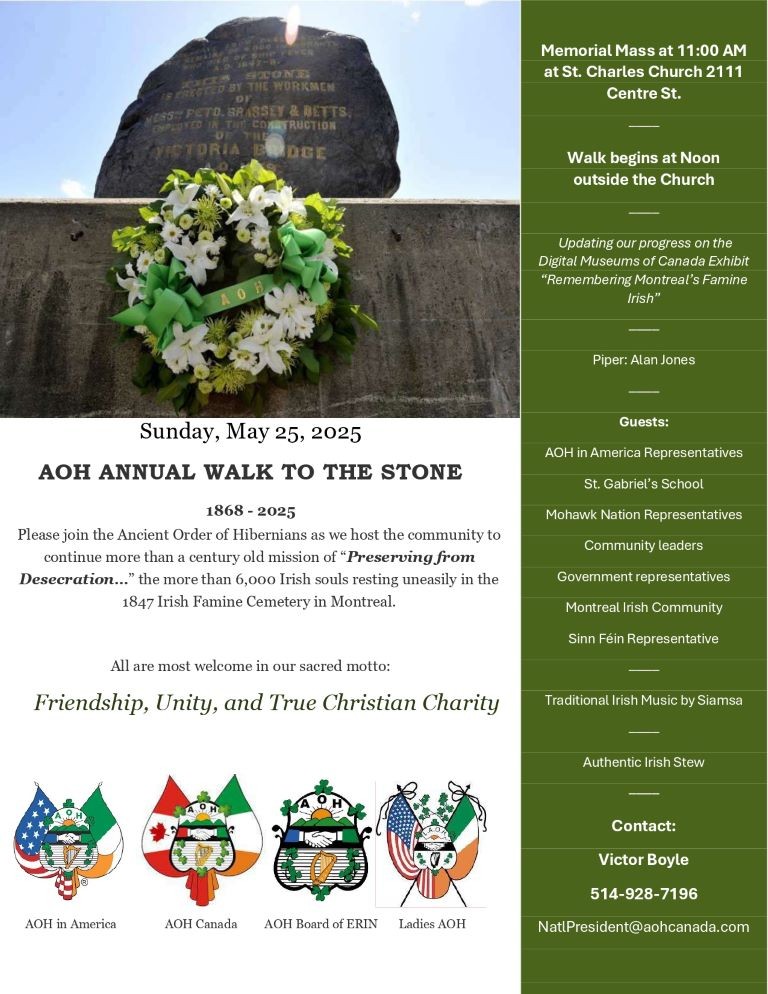 Montreal Shamrocks - Darkness Into Light charity walk
This May, hundreds of thousands of people around the world will get together to walk from darkness of night into the light of morning to help us in the global fight against suicide and self-harm.
Symbolically the walk represents the therapeutic counselling journey. It sparks conversation about the importance of mental health and well-being in all our lives.
Darkness Into Light is a charity 5km walk/run to raise awareness and funds for suicide prevention. This event is modeled on the original Darkness Into Light movement created by Pieta House in Ireland. From 2020, the Montreal Shamrocks will officially join that worldwide project, joining hundreds of thousands walking for the dame cause across the globe.
Join the Montreal Shamrocks on May 11, 2019 to walk together for a brighter future.
Learn more about Darkness Into Light here - https://www.darknessintolight.ie/ Dark Into Light Saturday 11 May, 5am Mont Royal
Registration
Adult - $30
Senior/Student - $25
Child +6 - $8
Child - 6 - Free
Register by Interac payment to montrealshamrockspayments@gmail.com
Please use the password answer - Light

Canadian Association for Irish Studies 2019 Conference
Irish Bodies and Irish Worlds
29 May to 1 June 2019
Bodies – the human body, textual bodies, bodies of knowledge, bodies of water – are central to the numerous disciplines that form Irish Studies. Knowledge about Irish identities has been embodied through physical performance, articulated through literary and cultural bodies of work, and imagined as watery avenues of migration, exile, and diaspora. In turn, these bodies operate in, are influenced by, and also influence in their own right the world around them. The built environment, the natural world, fictional literary worlds, the transatlantic diaspora – all become ways to deconstruct and add nuance to multiple meanings of Irishness in a globalized society.
Through the theme of 'Irish Bodies and Irish Worlds', the Canadian Association for Irish Studies 2019 CAIS Conference will be held at Concordia University in Montreal. Potential topics and panels include:
Abortion and the Repeal the 8th Movement and Referendum
Physical and/or sexual violence
The Irish world post-Brexit
Gendered Irishness
Ireland's roles in colonial and post-colonial worlds
Climate change and the Irish landscape
Music and soundscapes
The Irish language as a threatened or empowered body of knowledge
Literary and theatrical bodies of work
The Irish Diaspora
Emigration and exile
Ireland's contemporary place in global politics and culture
Parades and public performance
Irish sexualities
Confirmed keynote speakers for CAIS 2019 are Professor Joanna Bourke (Birkbeck, University of London), Professor Rhona Richman Kenneally (Concordia), award-winning author Kevin Barry, and Olivia Smith, co-editor of Winter Papers. The conference programme features a guided walking tour of Irish Montreal, musical performances, public readings, and a gala banquet in Old Montreal.
Details will be made available within the coming weeks.