Montreal Demo Day 2016: 6 accelerators, 18 startups, 1,000 attendees
Exceptional collaboration brings together leading startup incubators and accelerators
Montreal, June 8, 2016 - Innovation will set the tone for Montreal Demo Day 2016, a forum for creators and entrepreneurs from 18 startups who will pitch local and foreign business leaders, investors and government representatives on June 9th at Scena in Montreal. Expected to draw close to 1,000 participants, the event marks the first time the city's startup accelerators collaborate to produce a gathering on an unprecedented scale.
Montreal Demo Day 2016
Date: June 9th, 2016
Time: 4:00 p.m. to 10:00 p.m. *
Location: Scena, Quai Jacques-Cartier, The Old Port (South of Place Jacques-Cartier)
*A media visit at 2:30 p.m. will provide the opportunity to interview government representatives as well as the principal organizers and participants.
Led by Concordia University's startup incubator District 3 and Canada's first smart city accelerator InnoCité MTL, Montreal Demo Day 2016 also brings together Founder Institute, TandemLaunch, FounderFuel and Centech (ÉTS) for a marathon session of startup pitches on topics ranging from smart cities to tourism to SaaS & E-Commerce, consumer electronics and life sciences.
Montreal Demo Day 2016 is supported by the Ville de Montréal as part of its Montréal Smart and Digital City 2015-2017 Action Plan, which aims to position Montreal as a world leader among smart and digital cities by 2017. Mayor Denis Coderre will attend the event as a further demonstration of the city's support.
"In just a few years, Montreal has developed a vibrant startup ecosystem," states Denis Coderre, Mayor of Montreal. "It's the catalyst for the priority projects outlined in Montréal, Smart and Digital City, 2015-2017 Action Plan and will propel the city in its objective of providing innovative solutions to urban and social issues the world over."
The 2015 Global Startup Ecosystem Report has recognized Montreal's strengths ranking the city at number 20 among urban centres that have the right financial, entrepreneurial and creative climate to support the development of exciting new companies.
"Montreal Demo Day 2016 will be a dynamic illustration of the forces currently active within Montreal's startup community," says Xavier Henri Hervé, director of Concordia University's District 3. "These are the 'energizers' who will position our city among the world leaders in technological and entrepreneurial innovation."
"Montreal, through its support of initiative like InnoCité MTL, understands that the need to eliminate silos between municipalities and startups is critical for smart cities. The City's support of initiatives like Montreal Demo Day underscores Montréal's willingness to encourage collaboration amongst the startup ecosystem organizations and its commitment to entrepreneurs who develop innovative solutions and to the investors who back them" states Béatrice Couture, general manager of InnoCité MTL.
"Demo Montreal is a concrete illustration of Montreal's dynamic startup ecosystem. Direct contributors to the smart city initiative, startups are a hotbed of technological, economic and social innovation. The ideas pitched today at Demo Montreal will become, I'm sure, tomorrow's solutions to urban challenges," stated Harout Chitilian, vice-chair of the executive committee in charge of smart city initiatives.

Proud partner of the Ville de Montréal, InnoCité MTL is supported by the city thanks to a financial contribution from the Quebec government under the framework of l'Entente Montréal 2025, managed by the Secrétariat à la region métropolitaine.
Source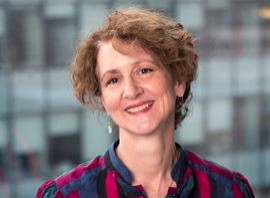 Find an expert
Search for an expert to comment on any topic
Enter a phrase or keyword
---