International exchange program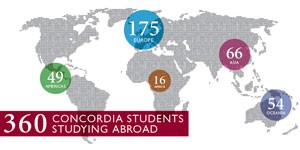 Concordia's International Exchange Program allows you to study abroad and get credit towards your Concordia degree, while paying the same tuition fees you do at home.
Discover the types of exchange programs, where you can study, sources of funding and how to apply on the Concordia International website.
---
Where can I go?
All over the world! Concordia University has two types of exchange agreements: bilateral and CRÉPUQ. This means a ton of options for you. See the full list of places you can go!
Students interested in studying at an institution that does not have an exchange agreement with Concordia may still be granted permission to do so. In this situation, students would be required to pay tuition directly to their host university.
How do I apply?
To receive permission to go on a student exchange, students should refer to the exchange program procedure before completing an application form.
Can I get funding?
While you're on exchange, you remain a Concordia student and are eligible for Concordia awards, scholarship and financial assistance. In addition, you might be eligible to receive up to $1,000 per month free bursary from the Québec government. Visit the Funding Opportunities section for additional information.