Green projects are thriving at Concordia's Loyola Campus
3 community gardening projects are underway this summer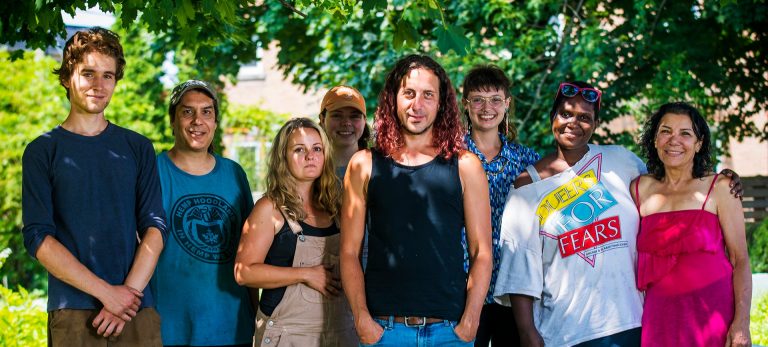 If you visit the northwestern part of the Loyola Campus over the summer, you will see plenty of green projects coming to life.
The area next to Hingston Hall is home to not one, but three different initiatives aimed at supplying sustainable food to students, volunteers and other community members.
And every project offers a chance for you to get involved!
CultivAction
The newest project is the CultivAction garden, launched as a solidarity cooperative this year, enhancing space previously cultivated by the City Farm School.
Erik Chevrier, a part-time instructor in the Department of Geography, Planning and Environment, the School of Community and Public Affairs and the Department of Sociology and Anthropology, is closely involved with the project.
"We saw an opportunity and decided to create a co-op to basically facilitate a transition toward more of a farm-to-plate model on campus. We also wanted to offer CSA (community-supported agriculture) baskets to people in NDG."
Assisted by funding from the Concordia Student Union, the Sustainability Action Fund, the Sustainability Living Lab Funding Program and the Sustainability Action Plan, the garden is tended by paid students.
"We are trying to provide meaningful opportunities for students but also link the production back to campus. So, they're actually producing food for their own student cafés and other ventures here at Concordia."
For those interested in subscribing to a CSA basket, some spots remain, and you can sign up by visiting the CultivAction website.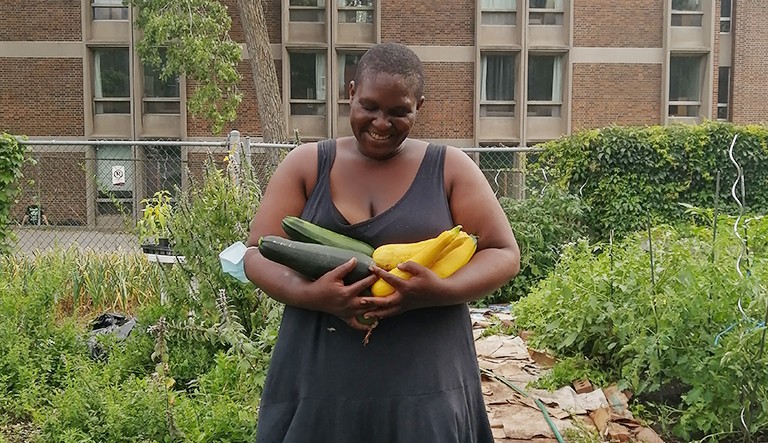 Collective member of The People's Potato, Sosa.
The People's Potato Garden
Founded in 1999, The People's Potato is a beloved Sir George Williams Campus–based community-run soup kitchen. It is well-known for serving free vegetarian meals to students from the seventh floor of the Hall Building.
But what many people don't know is that some of the food served downtown comes from the Loyola Campus via an organic garden opened soon after the Potato's creation.
"It's a drop-in volunteering thing, like the kitchen," explains Sosa, a collective member.
While garlic and herbs go to the downtown kitchen, volunteers are also able to collect produce, provided they commit to one hour of time in the garden. People of all ages and mobilities are encouraged to volunteer and need only send an email to peoplespotato@gmail.com.
The collective also donates food grown in the garden to local organizations.
"For the second year in a row, we are donating to the Head and Hands food pantry program," Sosa says.
Current PhD student in the Individualized program, Andrée Tremblay.
mind.heart.mouth
Started in 2019, the mind.heart.mouth Collective Garden was initially a one-woman show created by Andrée Tremblay, a former MA student in the Department of Communication Studies and a current PhD student in the Individualized program.
Tremblay was inspired to start the project when she realized how many students suffer from food insecurity.
"There are so many people hungry, we could grow food everywhere. mind.heart.mouth is about empowering people to learn to grow their own food."
Part of the project now involves older adults from the New Hope Senior Citizens' Centre who volunteer their time and receive harvested food in exchange; as can any volunteer. This year, all food will be going to the Centre's Meals on Wheels program, and lunches the Centre serves twice a week.
The garden is funded by the Sustainability Action Fund and the Sustainability Living Lab Funding Program.
"One of the main activities is looking for bugs under leaves," Tremblay laughs. "So, it doesn't matter where you come from, how much money you have, what your background is — we're all looking for bugs."
"I want the garden to reflect a positive and beautiful image for the university," she adds.


Learn more about Concordia's Loyola Campus.
---