Concordia hosts a knowledge exchange forum on accessibility in digital learning environments
Presenters include experts from Microsoft and the Canadian National Institute for the Blind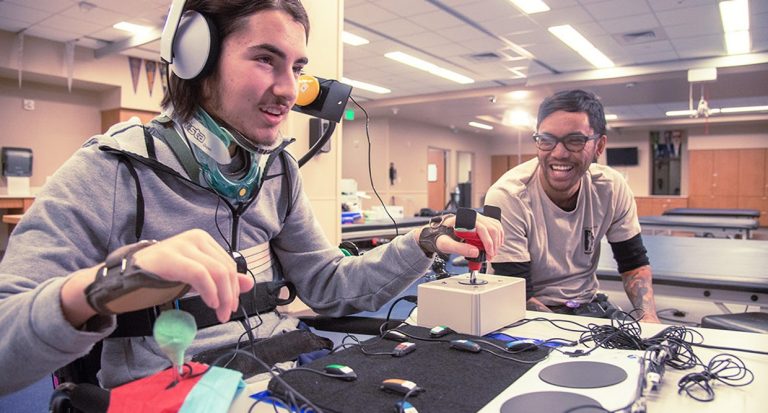 Traditional ideas of what constitutes a normative learning environment are quickly becoming a thing of the past.
For today's universities to be as inclusive and accessible as possible, all options have to be considered — including questions of physical design and digital pedagogical tools for people with disabilities.
With this in mind, Concordia is putting on a two-day knowledge exchange forum that will examine issues of accessibility and inclusivity in digital learning environments.
accessXchange will take place on April 24 and 25 at the Concordia University Conference Centre, bringing together scholars, students and administrators for a dynamic mix of talks, a design jam and community-building exercises.
"The exchange forum is an opportunity to start a conversation around accessible and inclusive approaches to learning," says Sandra Gabriele, vice-provost of Innovation in Teaching and Learning and organizer of the forum.
"It's important for us as educators because we know that inclusive design of classrooms, devices and courses for students with disabilities benefits a wide range of learners. It's part of what every university needs to be doing."
'Deliberately include, or you will unintentionally exclude'
Bryce Johnson, co-founder of Microsoft's Inclusive Technologies Lab in Redmond, Wash., Jutta Treviranus, director of the Inclusive Design Research Centre at OCAD University in Toronto, and Mahadeo Sukhai, head of research and chief accessibility officer for the Canadian National Institute for the Blind in Toronto, will be the forum's keynote speakers.
Johnson was part of the team that developed the XBox Adaptive Controller, which allows people without thumbs, fingers or motor control to play video games.
The philosophy of the accessXchange forum can be summed up by a sign that hangs in his laboratory: "When you do not intentionally, deliberately include, you will unintentionally exclude."
It's these unintentional design exclusions that modern institutions need to constantly strive to address, in order to improve conditions for the largest possible group of students.
"For example, if you are visually impaired, your online learning environments aren't always readable by a screen reader and an extra burden is placed on you," says Robert Cassidy, director of Concordia's Centre for Teaching and Learning.
"Sometimes instructors have no idea that these problems exist. If you have hearing impairments, that's another problem. We need to be clear about students' rights and our institutional standards."
'Improving digital access means a lot of things'
Ann-Louise Davidson, associate director of Concordia's Milieux Institute for Arts, Culture and Technology, will be running a design jam on day two. The hands-on workshop will allow participants to make accessible gamepad prototypes with electronic devices, micro controllers and even low-tech materials such as cardboard.
"Improving digital access means a lot of things," Davidson explains. "It can refer to digital and physical infrastructure, to systems and also interfaces. The team of students I gathered for the event has experience in addressing special needs, accessible screens and gamepads, and mobility issues."
How, in her opinion, can institutions improve digital learning environments and devices?
"That's the million-dollar question. The forum will involve makers, designers, usability experts and educators. We need to tap into the collective intelligence, test with users and hope for a better future."
The event is funded by a grant through Entente Canada-Quebec, provided by the Ministère de l'Éducation et Enseignment superiéure. The grant is co-led by Gabriele and Cassidy and includes partners from McGill University, Bishop's University, Dawson College and Cégep à distance.

accessXchange takes place April 24 and 25 at the Concordia University Conference Centre on the 9th floor of the John Molson (MB) Building (1450 Guy St.) on the Sir George Williams Campus. Register today!
Find out more about Concordia's Centre for Teaching and Learning.
---