Sports-journalism round table at Concordia explores how feminist issues are taken up on and off the ice
On Jan. 31, experts discuss women's hockey and the uneven contest for headlines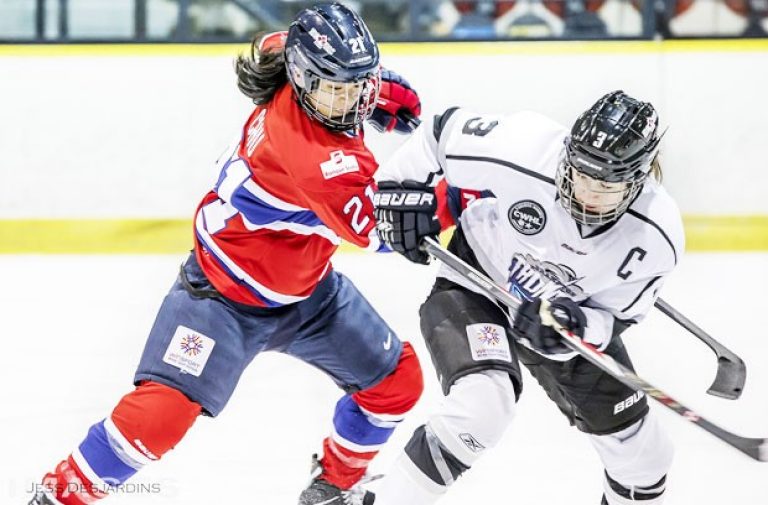 Aaron Lakoff is a master's student in media studies at Concordia. He'll be moderating the January 31 round table, "Power Play: How Women Can Change Sports Journalism."
'A hurdle for any women's sport is getting attention'
More than 25 years have passed since goaltender Manon Rhéaume laced up her skates for the Tampa Bay Lightning in an historic pre-season game.
The Quebecer was the first woman to play a game in the National Hockey League (NHL), inspiring a new generation of female hockey players.
Since then, women's hockey has grown by leaps and bounds in this country. Canada's women's team has brought home multiple gold medals from the Olympics and the World Championships, and the Canadian Women's Hockey League (CWHL) expanded into China in 2017.
Despite all this, women's hockey still exists in the shadow of the men's game.
Take Montreal, where hockey and hockey media are mega-industries. During the NHL playoffs, the city's bars overflow with revelers sporting the tricolore, cheering on their beloved Habs.
Yet how many people have heard of Les Canadiennes, Montreal's championship-winning women's professional hockey team?
More importantly, how are feminist issues taken up in hockey media? How can we make more room not only for women's hockey, but also women's voices in the sports media landscape?
"Power Play: How Women Can Change Sports Journalism," an upcoming round-table discussion hosted by the Feminist Media Studio on Concordia's Loyola Campus will delve into these questions. The January 31 event will bring together three of the sharpest feminist voices in Canadian women's hockey.
Meg Hewings is the general manager of Les Canadiennes. Robyn Flynn is the first woman in Canada to host her own sports talk radio show (Centre Ice on TSN 690). Safia Ahmad is a recent graduate of Concordia's Graduate Diploma in Journalism Program and the current media relations manager for Les Canadiennes.
Competitive, high-quality and worth watching
"I think a hurdle for any women's sport is getting attention," Ahmad says.
"If Les Canadiennes are playing a game tonight, and there's also a Habs game on, chances are I'm not going to get half the media requests I normally would."
Les Canadiennes have an official partnership with their male counterparts, the Canadiens, and the two teams don't necessarily compete for audiences. But Ahmad says the real challenge is getting hockey fans to pay attention to the women's game.
"It's the age-old problem — getting people to realize that women's sports aren't slow or boring," she says. "They're actually really competitive, really high quality, and worth watching."

"Power Play: How Women Can Change Sports Journalism," is free and open to the public. It takes place on Wednesday, January 31 at 6:30 p.m. in Room 2.130 of the Communication Studies and Journalism (CJ) Building on the Loyola Campus (7141 Sherbrooke West).
The round table will be recorded as part of Aaron Lakoff's research-creation project, Changing on the Fly. This four-part podcast series examines social justice issues, such as feminist and anti-racist activism, both inside and outside hockey's arenas.
Find out more by visiting the Feminist Media Studio online or e-mailing info@feministmediastudio.ca.
---