Saifur Rahaman, Ph.D.
Associate Professor, Building, Civil, and Environmental Engineering

---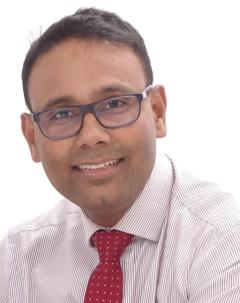 ---
Dr. Saifur Rahaman is currently a tenured Associate Professor of Environmental Engineering at Concordia University. Prior to joining Concordia as an Assistant Professor in June 2012, he spent two years as an NSERC-Canada Postdoctoral Fellow in the Department of Chemical and Environmental Engineering at Yale University, New Haven, Connecticut. Dr. Rahaman received his Ph.D. from University of British Columbia (UBC), Vancouver, BC, M.A.Sc. from Dalhousie University, Halifax, NS, and B.Sc. from Bangladesh University of Engineering and Technology (BUET), Dhaka, Bangladesh, all in Civil (Environmental) engineering. He has more than 15 years of experience in conducting research, teaching and consulting services in the areas of sustainable water and energy.
The primary focus of Dr. Rahaman's current research is to develop advanced materials and novel membrane-based processes for water and wastewater treatment. His research interest includes (i) membrane separations for water and wastewater purification, (ii) environmental applications of engineered nanomaterials, (iii) electrochemical advanced oxidation for disinfection and destruction of trace contaminants, and (iv) resource recovery (water, nutrient and energy) from industrial wastewater. Dr. Rahaman received a number of prestigious awards including NSERC-Discovery Accelerator Supplements (DAS) Award (2019), Gina Cody School of Engineering and Computer Science Research Award - Tier II (2019), Concordia Research Fellow Award in Category A (2017), MWH/AEESP Best Master's Thesis Advisor Award (2016), Petro-Canada Young Innovators Award (2015), NSERC Postdoctoral Fellowship (2010-2012) and British Columbia Water & Waste Association (BCWWA) Student Achievement Award (2009). Dr Rahaman is currently an academic editor of the PLOS ONE and a member of the editorial board of Frontiers in Environmental Science.
Education
Yale University, New Haven, CT, USA. Postdoctoral Fellow, 2012

University of British Columbia (UBC), Vancouver, BC, Canada. Ph.D., 2010

Dalhousie University, Halifax, NS, Canada. M.A.Sc., 2003

Bangladesh University of Engineering and Technology (BUET), Dhaka, Bangladesh. B.Sc., 2000
Awards and honors
NSERC-Discovery Accelerator Supplements (DAS) Award (2019)

Gina Cody School of Engineering and Computer Science Research Award - Tier II (2019)

Concordia Research Fellow Award in the Strategic Research Cluster "Technology, Industry and the Environment" (2017)

MWH/AEESP (Association of Environmental Engineering and Science Professors) Master's Thesis Award First Place (Master's Student Adel Soroush) (2016)

Petro-Canada Young Innovators Award (2015)

NSERC Postdoctoral Fellowship (2010-2012)

British Columbia Water & Waste Association (BCWWA) Student Achievement Award (2009)
---
Teaching activities
Courses
ENGR 202-Sustainable Development and Environmental Stewardship

CIVI 361-Introduction to Environmental Engineering

CIVI 466-Engineering Aspects of Chemical and Biological Processes

CIVI 6681-Environmental Nanotechnology

CIVI 6641-Unit Operations in Environmental Engineering
---
Research activities
Research interests
Environmental applications of engineered nanomaterials

Membrane separations

Electrochemical advanced oxidation

Resource recovery from waste

Process modelling for advanced treatment technologies
---
Publications
---
Conference/Talk