Amy R. Poteete
Associate Professor, Political Science
Co-Director, Loyola Sustainability Research Centre (LSRC)

---

---
Dr. Amy Poteete's research explores interactions between political competition, policy, and political development in the context of policies for natural resource management and decentralization in Africa. Her early work analyzed the role of bureaucratic and local-level elections in the implementation of natural resource policies in Botswana. Dr. Poteete's ongoing work investigates whether and how spatial and temporal variation in electoral competition influences state interventions that affect natural resource management - and the quality of democracy more generally – in Botswana, Tanzania, and Senegal. She also has a longstanding interest in the study of distributional issues and the potential for political empowerment through collective action, participatory policy processes, and decentralization. Another strand of writing, on methodological practices and the practical challenges of research design, is informed by her experiences conducting field research in Botswana and working with the International Forestry Resources and Institutions (IFRI) research program.

Education
PhD (Duke University)
Research interests
Politics of development and change, African politics, natural resources, electoral and party politics, decentralization

Research affiliations
African Politics Conference Group
Institute for the Study of International Development, McGill University
International Political Science Association Research Committee on Concepts and Methods
Workshop in Political Theory and Policy Analysis, Indiana University
Assemblée nationale du Sénégal
Photo credit: A. Poteete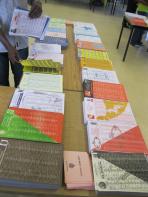 Absentee voting for Senegalese legislative elections of 2012 in Montreal
Photo credit: A. Poteete
Voter registration poster, Botswana, 2014
Photo credit: A. Poteete
---
Teaching activities
POLI 327 Comparative Democratization
POLI 366 Politics of Africa
POLI 410 Environmental Policies in the Developing World
POLI 487D Decentralization and Development
POLI 601/844 Research Design
POLI 636/805 Theories of Public Policy and Public Administration
POLI 683 Development Policy and Administration

---
Selected Publications
Books
Poteete, Amy R., Marco Janssen, and Elinor Ostrom. 2010. Working Together: Collective Action and the Commons, and Multiple Methods in Practice. Princeton, NJ: Princeton University Press.

Articles
Poteete, Amy R. 2012. "Electoral Competition, Factionalism, and Persistent Party Dominance in Botswana," Journal of Modern African Studies 50, no. 1 (March): 75 – 102. doi: 10.1017/S0022278X11000619

Poteete, Amy R. and Jesse C. Ribot. 2011. "Repertoires of Domination: Decentralization as Process in Botswana and Senegal." World Development 39, no. 3 (March): 439-449. [http://dx.doi.org/10.1016/j.worlddev.2010.09.013]

Poteete, Amy R. 2009. "Is Development Path Dependent or Political? A Reinterpretation of Mineral-Dependent Development in Botswana," Journal of Development Studies 45, no.4 (April): 544 - 571. Recipient of the Dudley Seers Memorial Prize recognizing the best article published in the Journal during 2009 (Volume 45).

Poteete, Amy R. 2009. "Defining Political Community and Rights to Natural Resources in Botswana," Development and Change 40, no.2 (March): 281 - 305.

Poteete, Amy R. and ElinorOstrom. 2008. "Fifteen Years of Empirical Research on Collective Action inNatural Resource Management: Struggling to Build Large-N Databases Based onQualitative Research," World Development36, no. 1 (January): 176 - 195. [http://dx.doi.org/10.1016/j.worlddev.2007.02.012]

Poteete, Amy R. and Elinor Ostrom. 2004. "In Pursuit of Comparable Concepts and Data about Collective Action." Special issue on "Methods for Studying Collective Action in Rural Development," edited by Ruth Meinzen-Dick, Monica Di Gregorio and Nancy McCarthy, Agricultural Systems 82, no. 3 (December): 215 – 232.
Poteete, Amy R. and Elinor Ostrom. 2004. "Heterogeneity, Group Size and Collective Action: The Role of Institutions in Forest Management," Development and Change 35, no. 3 (June): 437 – 461.
Poteete, Amy R. and David Welch. 2004. "Institutional Development in the Face of Complexity: Constructing Systems for Managing Forest Resources," Human Ecology 32, no. 3 (June): 279 - 311.
Chapters
Poteete, Amy R., Bashi Mothusi,and Daniel Molaodi. 2014. "Decentralization in Botswana: Political and EconomicObstacles to Democratic Decentralization," pp. 23 – 43 in J. Tyler Dickovickand James Wunsch, eds., Decentralizationin Africa: The Paradox of State Strength. Boulder, CO: Lynne RiennerPublishers.
Poteete,Amy R. 2013. "TheAbsence of Inter-Group Violence in Botswana: An Assessment of the Role ofDevelopment Strategies," pp. 183 – 219 in William Ascher and NataliaMirovitskaya, eds., Economic Roots ofConflict and Cooperation in Africa. Palgrave Macmillan.
Poteete,Amy R. 2010. "Analyzing the Politics of Natural Resources: From Theories ofProperty Rights to Institutional Analysis and Beyond," pp. 57 - 79 in IsmaelVaccaro, Eric Alden Smith, and Shankar Aswani, eds., Environmental Social Sciences: Methods and Research Design. Cambridge,UK: Cambridge University Press.