COMING SOON: Concordia Day at the Montreal Museum of Fine Arts!
On September 14, faculty, staff, students and alumni are invited to experience REVOLUTION, the Art Hive, flash tours and more
Posted on September 6, 2017
|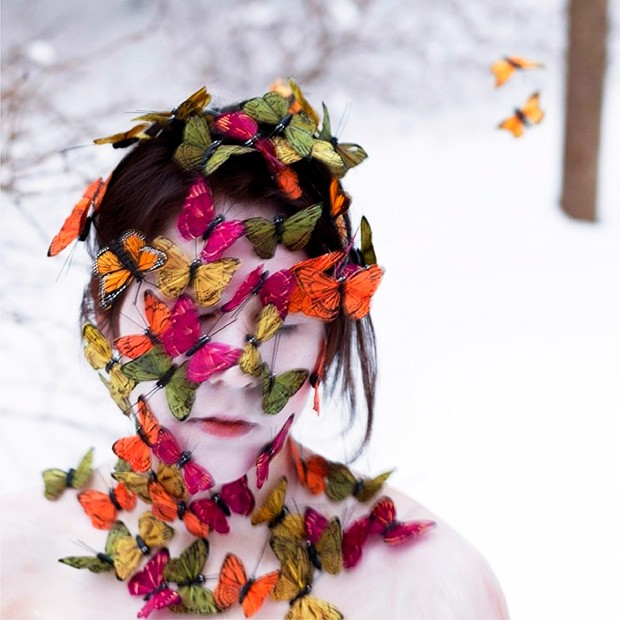 Anima
from the "In-Between Worlds" series, 2012, by Meryl McMaster. | Courtesy of the artist

Flower power, Jimi Hendrix, Vietnam war protests, Woodstock — all these groovy cultural touchstones from the 1960s, and more, are free for your enjoyment at the Montreal Museum of Fine Arts (MMFA) on Thursday, September 14.
Can you dig it?
Concordia Day at the Museum of Fine Arts welcomes students, faculty, staff and alumni to view the museum's collections and current exhibitions, including the blockbuster Revolution. The musical odyssey explores the ideals and aspirations of the late 1960s as expressed in music, film, fashion and design.

Inspiration next door
"Museums have changed," says Thomas Bastien, interim director of Education and Well-being at the MMFA.
"The elitist institutions of the past are gone and it's now a humanist space and a social space. Concordia Day is a natural outcome of our long-standing history of collaboration between friendly neighbours."
Indeed, the MMFA and Concordia have developed many common projects, including the Zone Éducation-Culture on Bishop Street and the Art Hive, to name two recent examples.
"The invitation to cross the street and visit our museum neighbours is an opportunity for the entire Concordia community to take full advantage of our privileged partnership," says Clarence Epstein, senior director of the Office of Urban and Cultural Affairs.

Art hives, flash tours and concerts
And who wouldn't want to watch archival film from Woodstock? The museum is screening three hours of documentary footage as part of the exhibition.
Revolution has more than 700 objects and pieces of art, but Concordia Day also includes a full slate of collaborative programming. It includes participatory workshops at the Art Hive, live music and guided tours by student and faculty members of areas like the Michal and Renata Hornstein Pavilion for Peace and the Sculpture Garden.
Rebecca Duclos, dean of the Faculty of Fine Arts, encourages everyone to make the short walk to the museum — no need to take a magical mystery bus.
For Mercedes La Rosa, a graphic designer at Concordia, a trip to the museum is a regular part of her creative process.
"I get a lot of inspiration from the works in the building," she says, adding that regardless of your field of study, you're bound to walk away with some new ideas after a visit.
Concordia Day at the Montreal Museum of Fine Arts (1380 Sherbrooke Street West) takes place on Thursday, September 14, from 10 a.m. to 5 p.m.
Admission is free for students, staff, faculty and alumni. You should register for all activities from the events page. Don't forget to bring your university ID card!

Find out more about Concordia's Faculty of Fine Arts.