In Montreal, art really does matter
Annual student-run contemporary arts festival showcases work of Concordia undergrads in off-campus galleries
Exposure, networking, confidence-building, audience feedback and a triumph for the resume. For an emerging artist, what's not to like about Art Matters, Concordia University's annual student-run arts festival?

"Art Matters has a lot of exposure in Montreal. People got to know me and my work, and I got to speak to so many people and make connections," says Keivan Khademi Shamami, whose paintings were shown at the 2012 festival. "And, it really helps to have it on your CV."

Arts Matters – North America's largest student-run contemporary arts festival — is a multi-day, multidisciplinary event staged by undergraduate students in various venues throughout Montreal.

Its 13th edition takes place from March 8 to 22, 2013. About 150 artists will have their works of music, dance, design, film, performance art, spoken word, theatre, video and visual art shown in 13 shows organized by 16 student curators.

Besides the exhibitions and performances themselves, events include opening and closing parties, an afternoon speaker series and an open house, during which festival-goers can mingle with participating artists and curators. To whet appetites for the upcoming exhibitions and performances, a Nuit Blanche event (part of the Montreal High Lights Festival) called In Between will be held during the night of March 2-to-3 at the MainLine Theatre. It's in collaboration with the St. Ambroise Montreal Fringe Festival.

Only one venue, the VAV Gallery, is on Concordia's grounds. The rest of the galleries, artist-run centres and performance spaces are sprinkled throughout the neighbourhoods of St-Henri, downtown, the Village, the Plateau, Mile End and Little Italy.

"Part of the reason is to expose Concordia artists to the greater Montreal community, and to give students a sense of what it's like to work in a professional gallery," says Clinton Glenn, the festival's exhibitions and special events coordinator.

One of those galleries is Eastern Bloc, which will be an Art Matters host for the fifth time. "A large part of our mandate is to work with emerging artists, so we collaborate with universities," says Eliane Ellbogen, the venue's artistic director.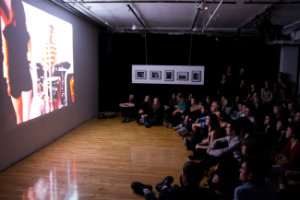 The festival is a known entity among gallery owners in the city, she adds. "As part of the Montreal arts landscape, Art Matters is well regarded."

Bringing art into various public venues, of course, also introduces Montrealers to many of the city's talented emerging artists. All exhibitions, talks and events are open to the public and all are free of charge except for the opening party, which costs $5 per ticket. "We would love for people outside the Concordia community to see what we do," Glenn says.

Khademi Shamami, who went on to have 10 group exhibitions last year, got more out of his Art Matters experience than he might have anticipated. Besides the much larger crowds than he was expecting to view his work, he was encouraged by the ideas people shared with him and the friendly feedback he received. One person even had some technical tips that he has put into practice in his painting. "It was a new way of looking at my own work," says Khademi Shamami. "Art Matters definitely helped."

What: Art Matters 2013
When: March 8 to 22, 2013 (with a special Nuit Blanche event on March 2)
Where: Locations throughout Montreal, listed at http://artmattersfestival.org

Related links:
• Art Matters
• Art Matters on Facebook
• MainLine Theatre
• Eastern Bloc
• Faculty of Fine Arts

---