Garnet Key engages students to be global citizens
Concordia society celebrates year of philanthropic work, welcomes new inductees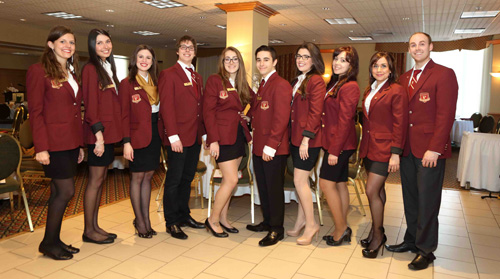 Members of Concordia's Garnet Key Society ushered in the 55th Key as they dined and danced at the organization's annual banquet.

More than 100 guests, including members of the first Key and up, gathered for a delectable meal at the Nouvel Hôtel and Spa, on May 5, for what has become a half-century tradition of kinship.

"Working along some of Concordia's best students was an absolute honour and privilege of mine," said Teresa Seminara, outgoing Garnet Key president and a double major in political science and community, public affairs and policy studies.

Dean of Students Andrew Woodall reminded guests of the society's colourful history and praised the current Key for sophistication and worldliness that belie its collective youth.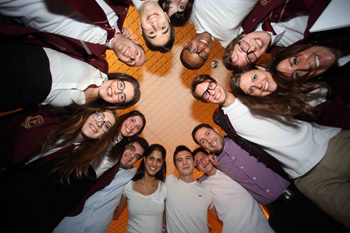 "You're part of something that is much larger than what's in this room," said Woodall. "Having seen you in action, I would say it's more like an inclusive gathering of energized and engaged global citizens."

Yet Woodall, who was appointed dean in 2011, advised Keys that results were no longer enough. "What you do is as important as how you do it," he said. "Did you act respectfully of others?"

Induction into the society — founded in 1956 at Sir George Williams University, one of Concordia's founding institutions — involves a rigorous interview process and high academic standing.

Once in, inductees organize community service projects and act as ambassadors for the university. Matthew Casbourne, who plans to undertake an MA in Public Policy and Public Administration at Concordia, told guests how the 54th Key set up an endowment fund which, upon maturity, will yield an annual bursary.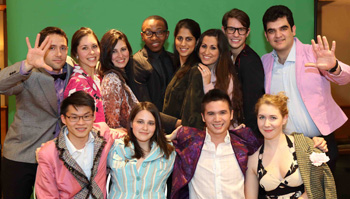 "We're confident we'll reach our objectives through upcoming fundraisers that focus on youth engagement," Casbourne said.

Michael Signer, a member of the 21st Key, dispensed wry humour over the striking differences between today's society and those of days gone by. "Our Key had a deli platter in the basement of the Hall Building and our initiation was a hot-pepper eating contest," said Signer, who holds a BA, BComm and MBA from Concordia.

The society has matured considerably over the years; however, the fundamental membership criteria — volunteerism — remains a constant.

Alexandra Johnson, an honours student in political science and Garnet Key vice-president, compared her stint in the society to a meeting with Apple Computer co-founder Steve Wozniak: "He told me: 'Always start with the best you've got.'"
In this podcast, Scott McCulloch of NOW news and events interviews Garnet Keys past and present.
---
This video was produced by David Adelman, a student reporter in Concordia's Department of Journalism.
---