New light on strategic communications
Luc Beauregard Centre of Excellence in Communications Research to be established at John Molson School of Business
A new research hub in strategic communications, the first of its kind at a Canadian business school, is being launched at Concordia University.

NATIONAL Public Relations has spearheaded a campaign to raise $500,000 to establish the Luc Beauregard Centre of Excellence in Communications Research at Concordia's John Molson School of Business (JMSB).
The centre's mandate is to strengthen exchanges between scholars in marketing and strategic communications and industry to better understand the role of communications in business. The eponymous centre will pay homage to Luc Beauregard, a pioneer in the field of strategic communications and tireless volunteer.

Centre to support students and research
The Luc Beauregard Centre of Excellence in Communications Research will support students and research in distinct ways.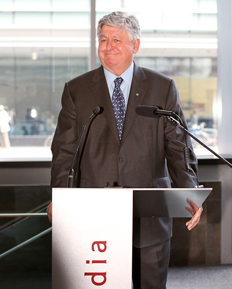 Research funds will be awarded to professors following a rigorous and competitive process. Two Luc Beauregard doctoral fellowships will be awarded annually to researchers who wish to deepen their understanding of strategic communications.

In addition, the Luc Beauregard Speaker Series will foster exchanges between academics, researchers and practitioners in strategic communications. The speaker series, to be held every two years, will provide access to eminent experts who will share their knowledge with faculty members, students and the general public.

Director and Advisory Board
The centre's director, Jordan LeBel, will oversee research and other core activities. LeBel is a graduate of both Cornell and McGill University. He joined Concordia's Department of Marketing in 2000 as an associate professor and is the recipient of JMSB's 2005 and 2010 best teacher award.
The Luc Beauregard Centre of Excellence in Communications Research will also benefit from an advisory board. Members will provide direction on policy and major activities and will be appointed for two years. In addition, the centre will publish an annual report on its research and pedagogical activities.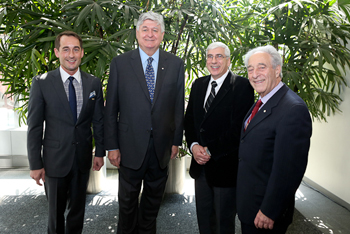 "We are grateful for this gift initiated by NATIONAL Public Relations and are proud to play a prominent role in the expansion of knowledge in strategic communications research," says Marie Claire Morin, Concordia vice-president, Advancement and Alumni Relations.

"This tremendous initiative, which blends doctoral studies and commerce, aligns perfectly with Concordia's academic priorities to deliver outstanding teaching and research programs."

"Our family was privileged to participate in the construction of the JMSB's new building and it is now a great honour and a wonderful experience to be involved in the academic content," says Andrew Molson, chairman of RES PUBLICA Consulting Group and co-leader of the Centre's fundraising campaign with Daniel Lamarre, president and CEO of Le Cirque du Soleil.

"The Luc Beauregard Centre of Excellence in Communications Research will be the first research centre in communications established within a business school in Canada. I would like to thank the John Molson School of Business for recognizing the importance of communications as a key component of business management."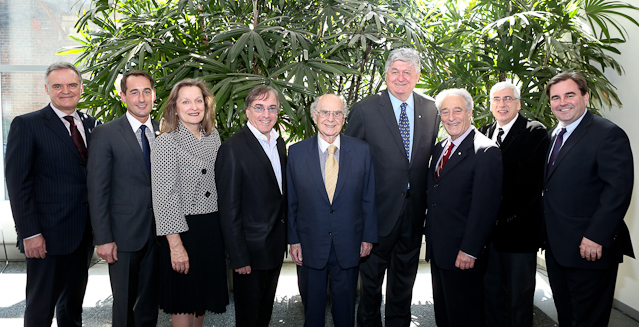 Jean-Pierre Vasseur, president and CEO of RES PUBLICA Consulting Group says: "The centre was created in honour of our founding chairman and is testimony to his leadership in the communications industry in Canada and the 35-year milestone that our firm reached in 2011."

JMSB Interim Dean Alan Hochstein adds: "Concordia is fortunate to be the beneficiary of this new research initiative and we are committed to innovation and discovery. The Luc Beauregard Centre of Excellence in Communications Research will deepen our understanding of strategic corporate communications and offer students unique opportunities to develop skills in critical thinking, marketing and business messaging."

The following podcast contains extracts from the speeches of several of the dignitaries who took part in the launch of the Luc Beauregard Centre of Excellence in Communications Research at Concordia on April 19:



Related links:
• John Molson School of Business
• Concordia University
• RES PUBLICA Consulting Group
• NATIONAL Public Relations

Source:
Scott McCulloch
Manager, Content and Production
Advancement and Alumni Relations
Concordia University
Phone: 514-848-2424, ext. 3825
Cell: 514-513-8535
scott.mcculloch@concordia.ca
On the web: http://alumni.concordia.ca
Twitter: http://twitter.com/ConcordiaAlumni


---