Breaking a sweat at PERFORM
David blogs about his athletic conditioning at Concordia's new research centre
It has been two months since I was officially declared out-of-shape after my stress test at the opening of Concordia's PERFORM Center, the new research facility dedicated to better health through prevention.

I felt terribly guilty that my heart had to work that much harder on a daily basis, Then the holidays came along and the clogging of my arteries continued. I swore that my New Year's resolution was to get in shape, so I signed up with a PERFORM trainer to help me get into shape over the next several weeks.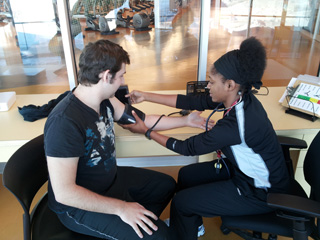 After my Friday morning class on Loyola Campus, I was off to my physical fitness evaluation across the street at the PERFORM Centre. Trainer Alicia Wright was expecting me. She said she would be working with me for the next few weeks – I knew my procrastination had come to an end.

Checking my blood pressure on both arms, Wright walked me through the evaluation. First, my cardiovascular fitness would be tested, followed by an incremental strength test. I cringed at the last test – a measurement of my waist circumference and my body mass index.

A heart monitor was strapped around my chest. Wright explained that the monitor is wirelessly connected with a USB-like device. When plugged into a cardio machine, the combination records a person's heart rate second-by-second.

The cardio machine was no average treadmill. Not only did it greet me by my full name (thanks to the device), the machine adjusted its speed and incline according to my heart rate. I started walking casually. Wright showed me a chart called Borg's Scale and asked me to point to a number from six to 20 indicating the level of physical fatigue. I pointed to six, being the lowest.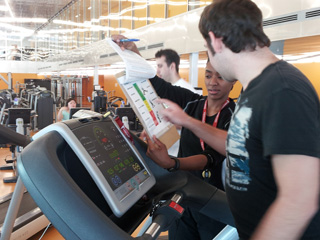 As I picked up speed, Wright asked me how I felt in terms of difficulty. My calf muscles had started to burn and as I broke into a sweat, I pointed to 13 (somewhat hard).

Next were the strength tests. To evaluate my upper body strength, I sat on the low row machine. Arms extended, I made it to 160 pounds before Wright noticed that I was cheating by not pulling my shoulders completely back. Next test.

Pushing the bars forward against the weight of the chest press, Wright told me I was breathing the wrong way. Instead of exhaling on the push, I was inhaling. Good thing I made the appointment with a trainer – I never would have figured that one out on my own.

The last test, the leg press, boosted my morale. To my surprise, I was able to push 380 out of the maximum of 400 pounds.

Finally, it was time for the measurements. I weighed in at 188 pounds at a height of five feet, 10 inches (rounding up just a half inch). Before I could worry any more about it, Wright had my results in hand.
My cardiovascular health was rated as fair compared to my age bracket. My upper body strength was rated "substantially improvable," my chest strength was rated "good" and my lower body strength was rated as "superb".

The trainer saved the knockout punch to my ego for last. The overweight range for a body mass index is between 25 and 29.9. My result was a 28.

Wright assured me she could whip me into good health, but I had to commit to my workout. If you want to join me, Le Centre's unique conditioning and rehabilitation facility is open to the general public.

Related links:
• PERFORM Centre
• "PERFORM Centre officially opens" – NOW, November 9, 2011
• "A Run-in PERFORMance" – NOW, November 17, 2011
---