Ideas in motion
Graduate communication studies seminar advancing research on mobile media.
March 21, 2011
|
Source: Concordia Journal
Ask yourself: What items do you bring when you leave the house?

If you included your cellphone, you're not alone, says communication studies professor Kim Sawchuk.
"The cellphone, usually seen as the paradigm of the mobile media communications devices, has become this integral article for many people that keeps them in constant and perpetual connection, something that has become overwhelmingly important to many people in the last 10 years.

"As a result of mobile media, it's really difficult now to be nowhere or alone," she says.

Food for thought, isn't it? The 13 students in Sawchuk's graduate seminar course COMS 893J - Mobile Cultures, Wireless Communications think so as well.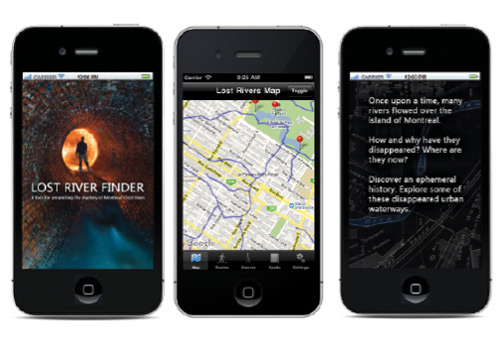 The course is part of the joint PhD program in communications that welcomes students of varying disciplines from Concordia, Université du Québec à Montréal (UQAM) and Université de Montréal (UdeM). It tackles the question of mobility in general, and the cultural and connectivity discourses and practices therein.

"Thinking about things in terms of mobility emphasizes the way people and places are tied together in thin and often fragile networks of connections that stretch beyond an individual person or place," explains Sawchuk.

She's asking her students to develop research topics that reflect interests they had before the class, but require rethinking through the lens of mobility.

For example, UQAM master's student Melanie Millette was researching podcasting culture in Quebec for her media studies degree. But she's now revising her research to reflect how podcasts create a mobile listening practice and experience.

Along with fostering a critical understanding of the subject, Sawchuk is also hoping to help position her students as future leading researchers in the field.

"These students are at the forefront of this issue in Canada. Within social sciences and humanities, there's a return to considering the impact of various new technologies on how we experience everyday life," she says. "My intention is for them to bring their work not only to the class, but to always think about the wider public who needs to consider these questions in their workplaces and their everyday lives."

This year, the class has welcomed many guest speakers including Catherine Middleton, who is Canada Research Chair in Communication Technologies in the Information Society at Ryerson University; Mireia Fernández-Ardèvol from Open University, Barcelona; and Susan O'Donnell from the National Research Council Canada, who addressed the class by virtual conference. The last seminar of the academic year (April 6) will welcome Kok Siew Wai, lecturer at the Multimedia University in Malaysia.

The class's material also ties in nicely to the work Sawchuk is doing at Communication Studies' Mobile Media Lab. One of her latest research projects, Redressing Silences, Confronting Mobility: Seniors, Cell Phones and Aging, explores the adoption, rejection or adaptation of cellphones by senior citizens. The project is a collaboration with Barbara Crow from York University.

"As a researcher, the class allows me to not just foist upon the students my own narrow interests, but learn through their investigations. I treat the students as researchers," she says. "Through them, I have a broader vision and view of where my own particular research interests fit into a larger spectrum of the issue. I love teaching this class."

COMS 893J students will be presenting their final work at an upcoming as-yet-untitled conference about media and mobility, April 20 and 21 in the Hexagram Resource Room (Room EV-11.705) in the Engineering, Computer Science and Visual Arts Integrated Complex (1515 Ste. Catherine St. W.). The conference is open to the public, and will be attended by researchers from McGill, UdeM and Concordia.

Related links:
• Concordia's COMS 893J - Mobile Cultures, Wireless Communications
• Mobile Media Lab
• Under the City
---