Dec 6 to 7: Rethinking Responsibility: Agents and Structures
DATE & TIME
Thursday, December 6, 2018 –
Friday, December 7, 2018
12 p.m. – 5 p.m.
WHEEL CHAIR ACCESSIBLE
Yes
---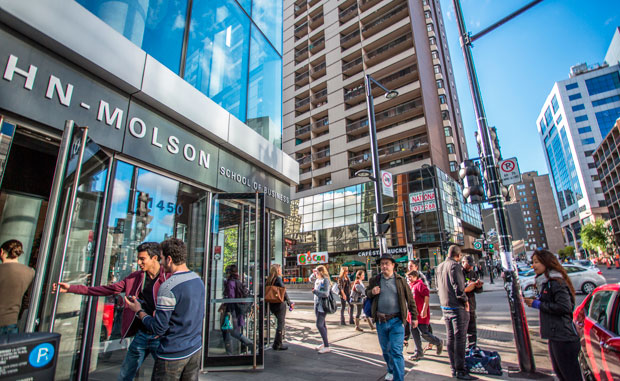 This two-day international conference brings together researchers from Canada, the US, Europe and Africa who study business, ethics, geography, labor, law, sociology and philosophy. Our aim is to rethink responsibility in business. What does responsibility in business mean today? How can we engage with responsibility to better prepare for the challenges of tomorrow, such as climate change, the digital age and widening inequalities? This conference seeks to encourage and outline answers to these and other questions by promoting conversations that consider agents, structures in which agents are embedded, and the ways in which agents and structures are linked.
This conference is generously supported by the RBC Professorship in Responsible Organizations, the Luc Beauregard Centre of Excellence in Communications Research, the Lawrence Bloomberg Research Chair, and the Concordia Accounting Research Seminar.
PROGRAM OVERVIEW
THURSDAY, DECEMBER 6, 2018
14:00 OPENING
14:15 SESSION 1: Defining and Pracitising Responsibility
Business, society and subalterness: Revisiting political CSR from a Creolized perspective: Nolywé Delannon, Université Laval, Québec, Canada
Responsabilité en affaires: Approche juridico-managériale par la RSE:Nora Seddiki-El Houdaigui, Université ABDELMALEK ESSAADI, Tanger, Morocco
Coalitional CSR Strategies: A Field-Level Perspective on Private Regulatory Competition:José Carlos Marques, University of Ottawa, Ottawa, Canada
16:15 WELCOME DRINKS
FRIDAY, DECEMBER 7, 2018
8:30 SESSION 2: Sustainability Discolusures and Practices
Holding businesses accountable for climate change: using reported emissions to determine sectoral budgets and pathways in line with global climate goals:Maida Hadziosmanovic, Concordia University, Montreal, Canada
Detecting Carbon Emission Disclosure Management:Thomas Kaspereit, University of Luxembourg, Luxembourg, Luxembourg
The Impact of Institutional Environment on Sustainability Disclosure in Southeast Asia:Mi Tran, University of Huddersfield, UK
10:00 BREAK
10:30 SESSION 3: Technology, Individuals, Groups
AI Democratization and Organization Technology Outlook:Glen Whelan, McGill University, Montreal, Canada
Bioethics, Complementarity, and Corporate Criminal Liability:Ryan Long, Thomas Jefferson University, Philadelphia, US
Rogue Opposition: Against Raikka's Genuine Opposition Thesis:Jeremy Watkins-Quesada, Oklahoma State University, Stillwater, US
12:00 BREAK
13:30 SESSION 4: Financing and Responsibility
Does the Threat of Takeover Discipline Managers? New Evidence from the Foreign Investment and National Security Act:David Godsell, University of Illinois, Champaign, US
The real effects of financing on corporate social responsibilities: Evidence from covenant violations:Luo He, Concordia University, Montreal, Canada
Succumbing to the pressure? What motivates firms to provide CSR performance-based incentives?:Leanne Keddie, Concordia University, Montreal, Canada
15:00 BREAK
15 :30 SESSION 5: Performance Measurement, Workers, Managers
Performativity and Counterperformativity of Social Measures. A Study of the Uses of Psychosocial Risks Indicators:Samuel Sponem, Université de Montréal, Montreal, Canada
Accountability In Labor Platforms:Jacob McCartney, Michigan State University, East Lansing, US
Which Moral Responsibilities Carry over from Principals to Agents? A Reflection through Shareholder Theory:Santiago Mejia, Fordham University, New York, US
17:00 END OF CONFERENCE
This event is free but registration is required.
---