Exhibitions, Arts & culture
Outre-vie/Afterlife : Les bons voisins
DATE & TIME
Monday, March 4, 2019 –
Friday, April 5, 2019
11 a.m. – 6 p.m.
WHEEL CHAIR ACCESSIBLE
Yes
---
FOFA Gallery / Galerie FOFA
(La version française suit l'anglais)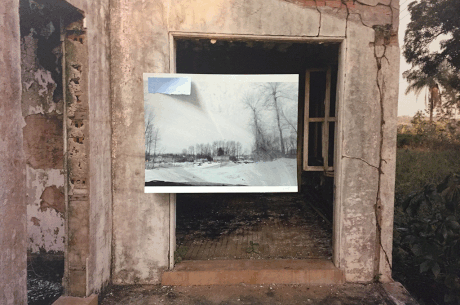 Les bons voisins includes new and re-contextualized works by the Outre-vie/Afterlife collective that consider themes of displacement, hospitality, and community. Drawing on an extensive archive documenting the group's activities since 2013, the exhibition includes La chambre aux ectoplasmes, a room-scale virtual reality reconstruction of Raymonde's dining room, a space at the very heart of our collective activities; How Many Seas, a series of large-scale public banners first installed on Carter Road in Mumbai, India in 2017; and Les bons voisins, a series of interrelated stations comprised of participants' individual contributions within the gallery's main space.
The juxtaposition of disparate elements activates new and unanticipated connections and discontinuities between image, text, and sound collected by group members in numerous spatial and temporal locations, from Quebec and elsewhere in Canada, to Korea, Greece, Romania, Iceland, Bosnia and Herzegovina. Through a series of aleatory and combinatory processes, Les bons voisins constructs anarchipelagic vision of "islands" woven in a collaborative practice. The unconventional art historian and librarian Aby Warburg called this mechanism the "law of the good neighbor." According to Warburg: "When you go to take a book from the shelves, the one you really need is not this one but its neighbor." The working archive is a space of controlled disorientation that is always in motion and meaning is necessarily elsewhere than where it is sought. Making use of this atypical methodological premise, which privileges relation and affinity as much as displacement and discontinuity, we invite the viewer to wander in a mobile microcosm of the group's ongoing collaborative image-making practices.
Outre-vie/Afterlife : Les bons voisins
Du 4 mars au 5 avril 2019
Les bons voisins présente une sélection d'œuvres inédites et réinterprétées réalisées par le groupe Outre-vie/Afterlife, dont la démarche s'articule autour des thèmes du déplacement, de l'accueil et de la communauté des images et des êtres. S'appuyant sur un fonds d'archives éclaté documentant les activités du groupe depuis 2013, l'exposition comprend La chambre aux ectoplasmes, une reconstruction virtuelle de la salle à manger chez Raymonde, lieu iconique de rencontre; How Many Seas, une série de grandes bannières extérieures déployées pour la première fois en 2017 sur Carter Road, à Mumbai, en Inde; et dans l'espace principal de la galerie, Les bons voisins, une série de stations inter reliées juxtaposant des propositions individuelles.
La cohabitation d'éléments dissemblables active des nouvelles relations et des tensions imprévues entre les images, les textes et les sons, recueillis par les membres du groupe à différents moments dans différents lieux, allant du Québec et ailleurs au Canada, jusqu'en Corée, en Grèce, en Roumanie, en Islande et en Bosnie-Herzégovine. L'ensemble rend visible une configuration en archipel dans laquelle se dégagent des «îlots» collaboratifs; il oscille tour à tour entre la cohésion narrative et la discontinuité. L'historien de l'art et bibliothécaire anticonformiste Aby Warburg a qualifié ce mécanisme de «principe du bon voisinage». Selon lui, « Quand vous allez prendre un livre dans les rayons, celui dont vous avez réellement besoin n'est pas celui-là mais son voisin.» Les archives de travail constituent un espace de désorientation contrôlée, où le sens se trouve nécessairement ailleurs que là où on le cherche. En utilisant cette prémisse méthodologique atypique, nous invitons le spectateur à visiter le microcosme en perpétuel mouvement de la complicité artistique.
---
Vernissage
Date: March 7, 2019
Time: 5 p.m. to 7 p.m.
Location: FOFA Gallery,
1515 Ste-Catherine St West, 1.715 EV
Montréal, H3G 2W1
Cost: Admission is free
Date: 7 mars 2019
Heure: 17h à 19h
Emplacement: Galerie FOFA,
1515 St-Catherine Ouest, 1.715 EV
Montréal, H3G 2W1
Tarif: Admission gratuite
Media coverage / Couverture médiatique
---