Beyond St. Patrick's Day
From Brazilian-Celtic tunes to James Joyce's Québécois influence, a Concordia graduate conference examines next-generation Irish studies
Posted on March 13, 2017
|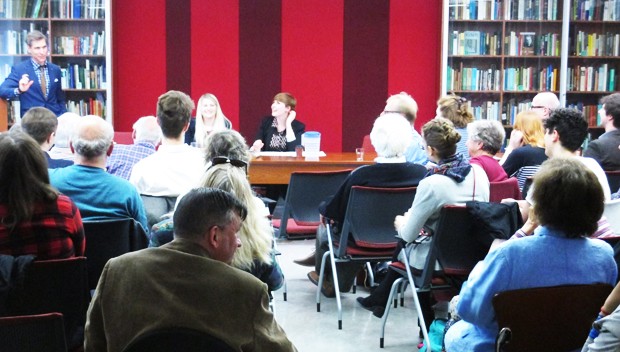 Scholars from North America, Ireland and Brazil are coming to Concordia for the free conference.

What is Brazilian-Celtic music? How has James Joyce influenced Quebec literature? Do anti-austerity politics affect Irish nationalism?
Transcending Disciplinary Frames in Irish Studies, the inaugural graduate conference hosted by Concordia's School of Irish Studies, will explore these questions and more.
This free public event takes place from March 24 to 25, on the university's Sir George Williams Campus.

International perspectives on the Emerald Isle
The conference will feature 11 presentations from graduate students engaged in Irish Studies research and research-creation that crosses traditional disciplinary boundaries.
Panellists include Concordia students from the Mel Hoppenheim School of Cinema, the English Department and the Individualized Program at the School of Graduate Studies. They'll be joined by international scholars from across North America, Ireland and Brazil.
"This event confirms Concordia's growing profile in Irish Studies and indicates the variety and vitality of the work being done here at the graduate level," says Michael Kenneally, principal and chair of the School of Irish Studies.
"The impressive participation by international students at this first conference reflects the widespread interest in this discipline around the world."

'An excellent starting point'
Georgina Laragy, professor of history at Trinity College Dublin, will be the conference's guest lecturer. The renowned social historian's cutting-edge research focuses on the public history of suicide, death and poverty in 19th- and 20th-century Ireland.
"Laragy's work represents an excellent starting point from which we can discuss and reflect on previously under-studied, marginalized subjects," says Helene-Jane Groarke, a conference organizer and MA student at Concordia.

Transcending Disciplinary Frames in Irish Studies takes place March 24 to 25 in room H-1001.01 of the Henry F. Hall Building. Admission is free and no registration is necessary. Find out more about Concordia's School of Irish Studies.