Don't miss these 6 amazing Art Matters events!
MARCH 4-31: Concordia's huge student-run fest hits the streets of Montreal
Posted on March 1, 2017
|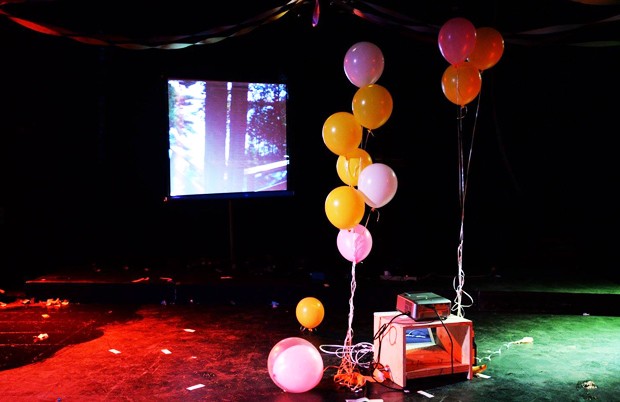 Michael Martini: "Our kick-off event at Nuit Blanche gives students an extra platform." Photo by Rojin Shafiei.

For the next month, more than 120 Concordia undergraduate artists, curators, coordinators and technicians will embed themselves in Montreal's cultural institutions to put on one of the largest student-run art festivals in North America.
From March 4 to March 31, Art Matters will showcase the diversity of the university's artistic community, promote emerging talent and provide students with professional experience.
"This year we are really taking our mandate of inclusivity to heart," says exhibitions coordinator Christina Richer, a fourth year photography student.
"We've tried to create more platforms for underrepresented artists. We made sure as many venues as possible are accessible and certain departments, such as Theatre, Contemporary Dance and Music have a stronger presence in this year's festival."
Art Matters has moved away from one-night events to focus on ones that take place across multiple weeks, adds Richer. This means that Concordians and the public will have more time to see the artworks.
Michael Martini, outreach coordinator for Art Matters and a fifth year theatre student, will provide weekly festival reports on the Faculty of Fine Arts website and make regular contributions to its Instagram account.
He and Richer offered to preview six standout events from the 2017 program.
1. It's Not Over Yet | March 4 from 10 p.m. to 1 a.m. | the MAI (3680 Jeanne-Mance)

"Our kickoff at Nuit Blanche is exceptional because it's featured externally to Art Matters," Martini says. "This gives the students participating an extra platform. It's a long-standing tradition to participate in the all-night city festival."
2. Untitled | March 13 to 24 | VAV Gallery (1395 René Lévesque Blvd. W.)
"This particular exhibition is exclusively featuring Concordia undergraduate artists of colour," Martini says.

"The curator has also arranged a talk at the exhibition opening for the artists to speak about their work and why they are presenting it in this setting."
3. Risque d'échec | March 7 to 20 | Mainline Gallery (3905 St-Laurent Blvd.)
"All the artworks in this show invite the public to participate, which is why we chose this venue with glass doors and windows on St-Laurent," Martini explains.

"It's the only show to have an artists-at-work day midway through their exhibition. It's a chance for people to see the artists actually changing their pieces. The thesis is: when is an artwork ever complete? Probably never."
4. Things Repeated and Ce qu'il en reste | Vernissage on March 14 from 6 to 11 p.m. | Eastern Bloc (7240 Clark)
"This vernissage highlights two exhibitions — one showcasing sculpture, drawing and photography, and the other dance and installation pieces. Performances will punctuate the evening throughout," Richer says.
5. Ennuyé par l'art | March 17 from 6 to 8 p.m. | Room EV 1.605 of the Engineering, Computer Science and Visual Arts Integrated Complex (1515 Ste. Catherine W)
"We're doing this in collaboration with Art Souterrain. The talk will be on the relationship between boredom, playfulness and making art," Martini says.
"Most speakers will deliver their talks in French because we wanted to do something that is accessible to francophone students."
6. Closing party | March 31 from 11 p.m. until late | Bar Le Ritz PBD (179 Jean-Talon W.)
"It will be a fun night with musicians and performers," Richer says. "Bar Le Ritz is wheelchair accessible and has gender-neutral bathrooms."

Concordia's Art Matters needs an army of volunteers to help run the festival. If you want to get involved, contact volunteer@artmattersfestival.org.
Check out the full Art Matters 2017 festival program.