Art Matters hits the ground running
Festival Outreach Coordinator Michael Martini gives his report on week one
Posted on March 13, 2017
|
One week in and Art Matters is showing off Concordia's diverse talent in style.

With one weekend's vernissages spreading from Villeray to Hochelaga, the festival doesn't let Montrealers forget that its been called the largest student-run art festival in North America. What do all the exhibitions have in common? The works are entirely created by Concordia undergrads.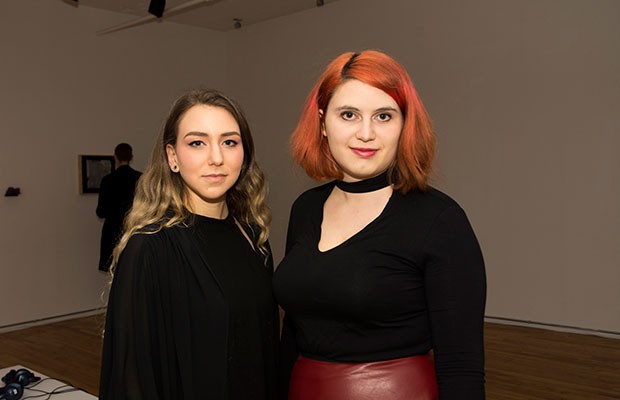 Wire Forest curators Diana Lazzaro and Valerie Bourdon
A DJ, two enormous video projections, two interactive light sculptures, two electro-acoustic listening stations, and a pitch black dance piece. Somehow curators Diana Lazzaro and Valerie Bourdon managed to pull off Wire Forest, a bustling, electric night at Studio XX. Art Matters has worked with Studio XX since 2013.
Wire Forest is exhibited until March 18 at Studio XX (4001 rue Berri #201).
They must have been some of the most technically savvy curators we've seen.
– Studio XX's Production Coordinator, Deborah Van Slet.
Ontology at Espace Projet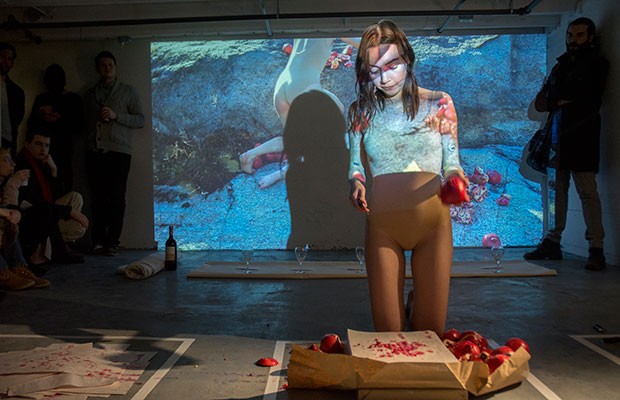 Marie Ségolène's performance of printmaking with pomegranates
One of Art Matters' most buzzing exhibitions of the year, Ontology has unveiled several pieces exploring anxiety. Curator Xan Shian, a Photography student, has even carved out special alcoves in the space to unnerve and engage with works, such as IMCA student Aya Avalon's transformation of the gallery's closet into a peaceful garden, and Marie Ségolène's ongoing performance of printmaking with pomegranates to a gentle lyre in Espace Projet's cozy basement.
All Art Matters exhibitions begin as propositions made by students. For the Art Matters jury, this exhibition stood out as bravely addressing mental health.
Ontology runs until March 19 at Espace Projet (353 rue Villeray).

Ontology works towards destigmatizing mental health issues. I believe it's an important show to include in this year's festival.
– Art Matters coordinator Lesya Nakoneczy, 2nd year IMCA student.
Female Freedom Seekers: a talk by Charmaine Nelson

In collaborating with Concordia's Black Studies Collective, Art Matters helped bring Canada's only current black Art History professor to speak to a buzzing crowd. Dr. Nelson spoke of her vision of a Black Studies university program.
People often think that a black studies program would be comprised of history, political science, sociology, anthropology and literature. But Black Studies is all studies; it's the arts, business, economics, engineering, and so on.
– Black Studies Collective member Sophia Sahrane

Body Works at Gham & Dafe
Nathalie Dubois-Calero at galerie Gham & Dafe
Art Matters is only in its second year of working with emerging gallery Gham & Dafe, a collaboration sparked from a desire to make the festival more accessible to students living in the city's east-end. One special feature of Body Works was a craft table that remained jam-packed all night.
Body Works runs until March 18 at Gham & Dafe (3425 rue Ste-Catherine E.)
When I plan events, I try to be as aware of the different needs people have to feel comfortable in a space. And for me, as well as many others with social anxiety, it is helpful to include some sort of activity to engage in.
– Curator Alyse Tunnell, 5th year Art History student.