Concordia grad has out-of-this world job — literally
Tim Haltigin works at the Canadian Space Agency, where he helped put a spacecraft en route to an asteroid
Posted on July 10, 2017
|
On a quaint farm in rural Saskatchewan, Tim Haltigin, BSc 03, would sit out on his deck at night.
"You're in the middle of nowhere and there's this beautiful night sky above you," says the grad of Concordia's Department of Geography, Planning and Environment. "You can't help but look up in wonder."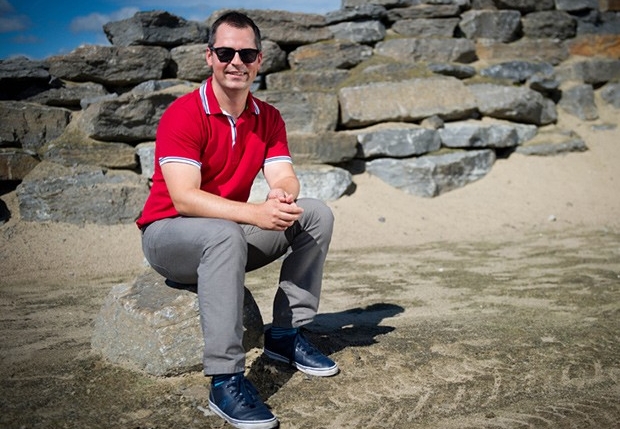 Tim Haltigin is senior mission scientist at the Canadian Space Agency
That sense of awe has steered Haltigin's career ambitions. Haltigin is senior mission scientist at the Canadian Space Agency, operating out of Saint-Hubert, Que.
"It's everything from executing experiments, operating instruments in flight and planning future contributions Canada can make to different missions," says Haltigin.
Water on mars
The self-proclaimed space nut's route to Mars began closer to home. Haltigin is an expert in geomorphology, the study of why landscapes look the way they do.
"In the beginning I was concentrating on rivers — that was my honours project at Concordia," says Haltigin. He continued along that path as a graduate student.
"A few of my friends entered this competition on how you could find ice on Mars," says Haltigin. "I said, 'Listen, I don't know anything about this but I want to help.'"
Though Haltigin didn't win the competition, a professor who had supervised the project encouraged his student to pursue a PhD. "My work compared landscapes in the Canadian high arctic to similar ones on Mars," says Haltigin.
The Canadian Space Agency provided funding for Haltigin's project. Six days after defending his dissertation in 2010, he joined them in a research position. After two years, he moved into his current role.
A high-five for an asteroid
A good deal of Haltigin's time is spent keeping tabs on a spacecraft that is making a 1-billion kilometre round-trip to Bennu, a 492-metre long asteroid in the sun's orbit.
"It's a mission led by NASA. We're grabbing a sample from the asteroid and bringing it back to earth in 2023," says Haltigin. The box-like spacecraft left earth in September 2016.
Haltigin and a team of 50 helped create a special laser that will take a three-dimensional scan of the asteroid. That's one of many gadgets on the Origins, Spectral Interpretation, Resource Identification, Security, Regolith Explorer (OSIRIS-REx). The bulk of the instruments — and the vehicle itself — were engineered in the United States.
"Between the entire suite of instruments we're going to know exactly what it looks like, its shape, its chemical and its thermal properties," says Haltigin.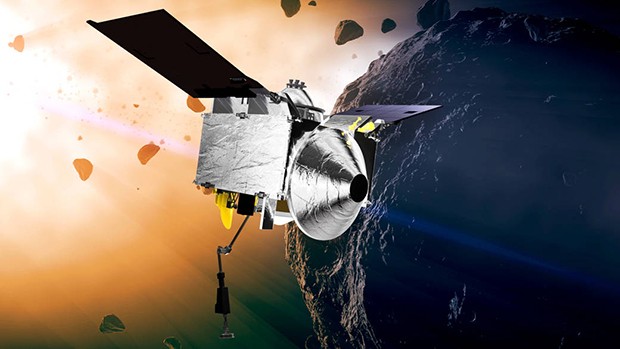 The OSIRIS-REx spacecraft is en route to Bennu, an asteroid that might contain answers to so some of our biggest questions — such as the origin of life itself.
The encounter between OSIRIS-REx and Bennu will last only five seconds. Because of the spacecraft's distance from earth, it can't be controlled by people on the ground. It's all programmed into the vehicle.
"The spacecraft will expand a sampling arm from its body. As soon as the head makes contact with the asteroid, it releases pressurized gas which sets off a flurry of particles," says Haltigin. Those are captured in a canister. "Think of it as giving a gentle high-five to the asteroid."
After encountering the asteroid, the stars have to align before OSIRIS-REx can make its way back to earth. "Because the orbits aren't right, it'll be hanging in space an extra year or so, somewhere between earth and Mars," says Haltigin.
The origins of life
"Think of an asteroid as a time capsule," says Haltigin. "They were formed at the beginning of our solar system and haven't changed much since."
Because of that, an asteroid sheds light on some of life's biggest questions. "You can understand the chemistry of our solar system. We're hoping to answer questions on how our solar system evolved and how life became seeded on earth," says Haltigin.
"It's pretty incredible," says Haltigin. "Every day I say sentences out loud that even I don't believe!"
Cosmic goal
Over-and-above the usual excitement of his day job, Haltigin was among 72 finalists in Canada's search for its two newest astronauts.
"They tested an awful lot of things," says Haltigin of the experience. The process included logic, ability to work in a team and physical fitness. Those selected will be announced in August 2017 — and that's just the beginning.
"Canadian astronauts are assigned to NASA's Johnson Space Center in Houston," he says.
Alongside American candidates, they train for two years. Part of the experience is at Aquarius, an underwater laboratory off the coast of Florida. "It's used as a practice facility for living in remote, extreme environments," says Haltigin.
At the other end, astronauts are assigned to a flight — though as Haltigin explains, going to space is a small component of it. "Your role is to push limits in all directions," he says.
An education fit for the starry-eyed
"I owe much of my scientific career to my time at Concordia," says Haltigin. He says Pascale Biron, professor in the Department of Geography, Planning and Environment, "called me after class one day. She said, 'I put your name in for this thing called NSERC. And if you're selected you're working for me this summer.'"
Haltigin ended up winning that scholarship. "She was the one who really showed me that science doesn't only happen in the classroom," he says.
"She taught me how to observe things, how to ask questions. She really set the foundation for my career as a scientist."
#CUalumni
Related links
Find an expert
Search for an expert to comment on any topic
Enter a phrase or keyword
---