Therapy for the whole patient
Grads Ron Rappel and Dave Campbell developed a network of physio sports clinics that shares a name with its original home, Concordia
Imagine an avid squash player. The athlete starts to feel round-the-clock tenderness in her serving arm that throws off her game and quality of life. That issue — known as tennis elbow — is one of many ailments treated at CBI Concordia Physio Sport.
Now with eight locations in the Montreal area, the company had modest beginnings. Its first clinic was established in 1990 in the basement of what was the Drummond Science Complex on Concordia's Loyola Campus. The founders are graduates of the university's Department of Exercise Science — Ron Rappel, BSc 85, and Dave Campbell, BSc 78.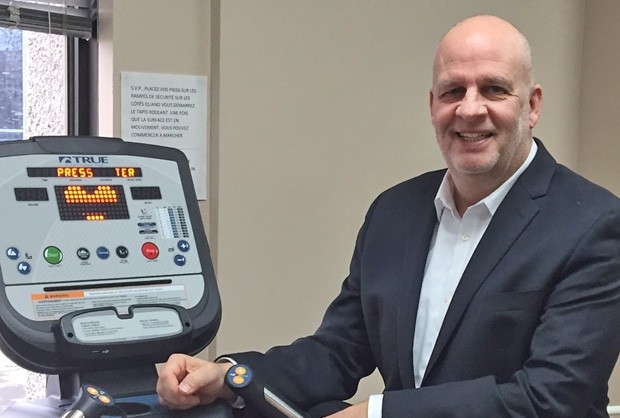 Ron Rappel focuses on developing CBI Concordia Physio Sport throughout Quebec.
After serving as athletic therapist with the now defunct Montreal Manic Soccer Team, Campbell started a clinic in Pointe-Claire, Que., in 1983. His business partner was Gary Cummings, a past head therapist at Concordia and a former professor of Campbell's.
Rappel shares a similar background. He worked with the university's varsity teams as head athletic therapist for 18 years, starting in 1986. During that run, he established a student internship program for those in athletic therapy to provide hands-on exposure with Concordia teams.
"There was an existing clinic that was being turned into a private enterprise," says Rappel, who is managing director of CBI Concordia Physio Sport. Campbell — a friend of Rappel — was equally keen when the opportunity presented itself.
"I saw managing the clinic at the university as an opportunity to provide some quality therapy to the general public," says Campbell. He would know — Campbell discovered his love of athletic therapy after injuring himself playing sports and being treated by Cummings.
The growth factor
CBI Concordia Physio Sport has now had a presence in Montreal's Notre-Dame-de-Grace (N.D.G.) neighbourhood for nearly 30 years. While they started on the Loyola Campus, they had to make a move.
"The Drummond Science Building was being torn down so they could construct the new Richard J. Renaud Science Complex," says Campbell. "We moved a little further east to our present location on the corner of Sherbrooke and Cavendish in 2004." Despite the relocation, they hung onto the Concordia name.
Dave Campbell with Canadian snowboarder Dominique Maltais shortly after she won a silver medal at the 2014 Winter Olympics in Sochi, Russia.
Campbell continues to work at the N.D.G. clinic as an athletic therapist and osteopath. Rappel focuses on business development.
There are six Concordia Physio Sport locations on the island of Montreal, as well as one in Laval, Que., and one in Brossard, Que. Contributing to the growth factor says Rappel is a partnership with CBI Health Group, which operates the largest network of health centres in Canada.
"Patient care is, and always will be, priority one," says Rappel. "We wanted a partner that could help us with the third-party market." He explains that CBI helps them connect to clients who come to them by way of the Commission des normes, de l'équité, de la santé et de la sécurité du travail.
Campbell points out that there's a huge range in terms of his clientele. "I'll see people in their teens and people in their 80s," says Campbell. Besides the general public, he also treats elite athletes — consulting with the Montreal Canadiens and with a number of Olympic athletes who train in the city.
"I'm with the Canadiens a couple times per week during the season. There is a lot to be done on a regular basis preventatively, with high-level athletes who train as hard as they do," says Campbell.
The alumnus has worked at numerous Olympics, starting at the 1996 Summer Games in Atlanta, Ga., with the Canadian team, and with select athletes at every Olympics since 2010.
The "wow" experience
Regardless of the client, the clinics have an approach that has proven to be a winning formula.
"We developed a customer engagement that we call the 'wow' experience," says Rappel. "We spend a fair amount of time with our staff explaining that you're not just treating an injury — you're treating the whole patient."
The clinics are able to cover a wide range of expertise — thanks to an approach that places different professionals at each centre.
"We have certified athletic therapists, physiotherapists, osteopaths, occupational therapists, massage therapists, sports medicine physicians and orthopedic surgeons," says Rappel. "It's practical from the communication point of view and for referring to different healthcare professionals."
A strong representation of Concordia grads
Because both Rappel and Campbell were long-time employees at Concordia, they had first-hand exposure to students. Many exercise science graduates have worked for Concordia Physio Sport through the years.
Campbell says they have employed up to 75 Concordia grads over the past 27 years.
"When you spend time with the students you really get know them," says Campbell. Rappel confirms this.
"I could see how they interacted as students, which gave me an idea of their character," says Rappel. "When we were looking to hire new therapists, we were hiring people that we had already known for a few years and knew what they were like professionally and personally."
#CUalumni
Related links