How to get a Montrealer to say "Let's go Rangers!"
Seven questions with alumnus Greg Kwizak, New York Rangers vice-president of Event Presentation
Posted on October 11, 2016
|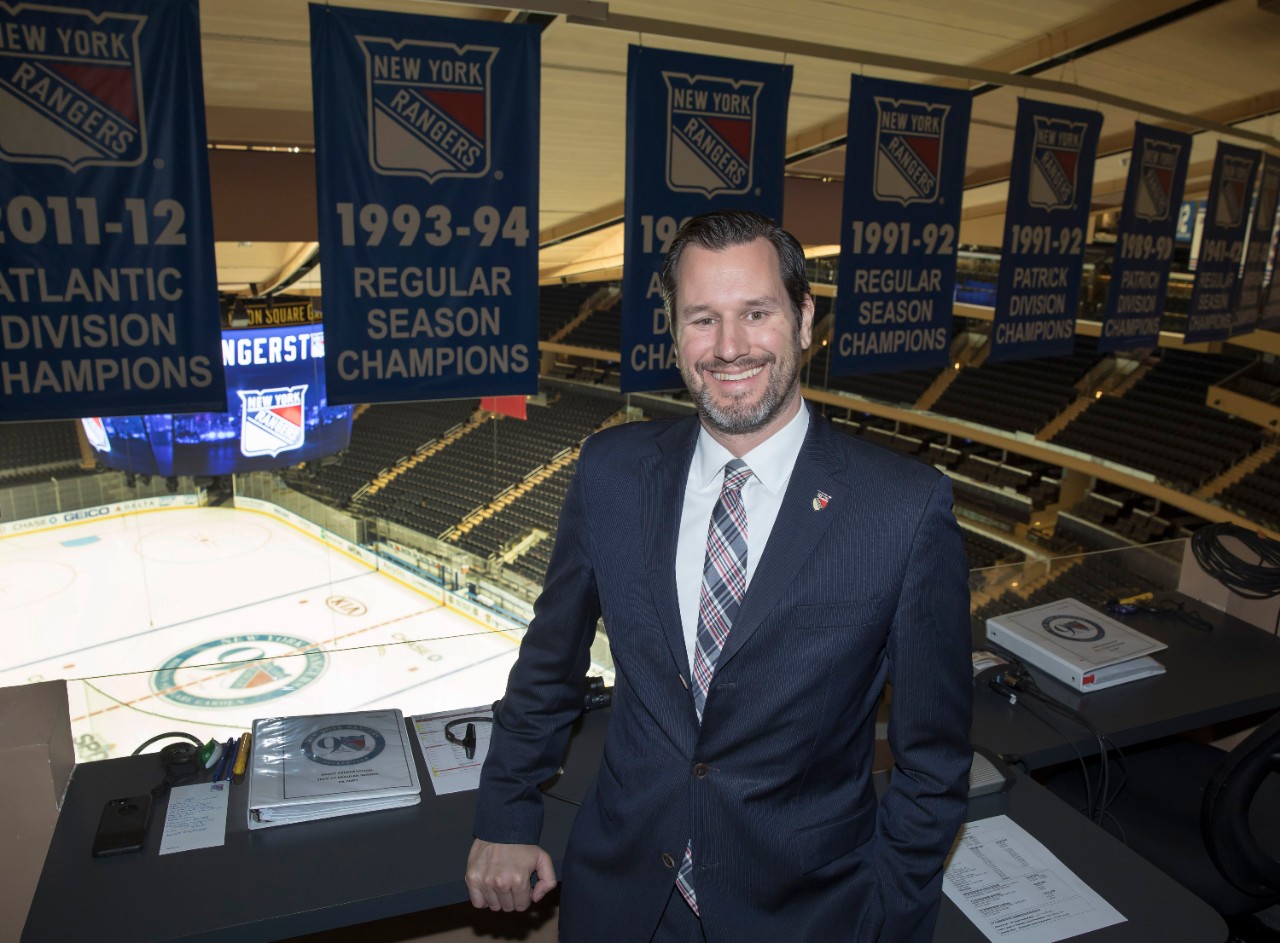 Greg Kwizak joined the New York Rangers organization in 2007. He's pictured in the game director's booth up in The Eyebrow at Madison Square Garden. Photo credit: Rebecca Taylor/MSG Photos
"Let's Go Rangers" could be the motto of the New York Rangers' Event Presentation team headed by Greg Kwizak, BA (comm. studies) 06.
As the Wall Street Journal puts it, "Turns out the New York Rangers have assembled two teams. There's the one you're familiar with. They wear numbered blue jerseys and chase around a puck with long sticks. And then there's the Rangers' off-the-ice players."
Kwizak is vice-president of Event Presentation for the New York Rangers at the Madison Square Garden Company. His journey from playing hockey on rinks in his hometown Montreal to rallying Rangers fans at "the world's most famous arena" is nothing short of meteoric.
With the 2016-17 National Hockey League's season set to start, Kwizak shares some of his professional highlights working for the iconic Rangers, one of the NHL's fabled Original Six teams, and also the first American NHL franchise to win the Stanley Cup, in 1928.
1. The New York Rangers' Event Presentation team works from an "office" above the ice at Madison Square Garden called "The Eyebrow." Can you explain?
Greg Kwizak: "The Eyebrow is the name of an area in the arena that includes our control room, our game director's booth, the music director's booth and the general manager's box.
People don't know there is an entire team up there in the rafters — in The Eyebrow — invisible to the fans, watching the game and literally programming content for every stoppage of play. I joined the Rangers in September 2007 and it's been quite an adventure.
I am so grateful for the talented people I get to work with every day, and there's nothing I can do without the support of my team."
2. Does your Event Presentation team have a detailed script for every Rangers game?
GK: "We put the script together days in advance and each script is different. It tells those who execute the show what videos and on-ice projection elements are coming up, the audio levels, the lighting situation, what P.A. announcements have been scripted — anything ranging from marketing to community relations to ticket sales to food and beverage.
Each aspect of every element affects a different person. There are also entertainment features with Rangers players, movie clips for celebrity introductions and team videos to get fans and players pumped up.
Based on where the game is going and how the team is playing, we have to react to any given situation in real time. This forces us to jump 'off-script' in order to adapt to the moment and run the appropriate content.
The fans always drive the momentum, and we give them a little extra push when needed."
3. Can you describe the legendary rivalry between the New York Rangers and the New York Islanders?
GK: "I grew up in Montreal, so I remember the Habs-Leafs, Habs-Bruins and Habs-Nordiques rivalries.
The Rangers and Islanders rivalry is just as intense: it's been around for decades, the fans highly dislike each other and there is always a loud, rambunctious crowd in attendance, so when we script for those games, we like to tell the story of these two teams.
We really like to showcase rivalry videos featuring great Rangers highlights vs. the Islanders. It's all about building the energy in anticipation of the opening faceoff and telling a story throughout the game.
Similarly, we look to tailor our content between the Rangers and other NHL opponents in the league as well. Every game is unique."
4. Can you describe what it's like to work in Madison Square Garden, which is billed as "the world's most famous arena"?
GK: "I remember watching Habs games at the Montreal Forum with my dad and that was a great experience. The Forum was unique in so many ways.
Madison Square Garden is very special. It is the world's most famous arena, it is the most iconic venue in sports and entertainment, and you get that nostalgic yesteryear feel when you come into the Garden.
The banners that hang from the rafters, the artists who have performed there, the teams — the Rangers, the Knicks [of the NBA], the Liberty [of the WNBA]. It's unlike anywhere else in the world, especially with its iconic ceiling.
What is also unique about the Garden is that it puts on more shows and games than there are days in the calendar year. This is possible because on some days, the Knicks will play at 1 p.m. followed by a Rangers game at 7 p.m.
When the Knicks game is done and fans leave the arena, a two-hour changeover occurs that requires a building-labour crew to quickly disassemble the basketball court, and rebuild the hockey rink. That process still mesmerizes me."
5. What are your most thrilling moments at Madison Square Garden?
GK: "I'd have to say directing six Game 7 play-off games. The energy and intensity during a Game 7 at The Garden is unparalleled anywhere else in sports. It's pretty nuts!
Also, the 12-12-12 concert to raise money for Hurricane Sandy relief was very special; Madison Square Garden put together the benefit concert in three or four weeks and it was all hands on deck. It was a company-wide team effort. The artists that performed that night were amazing.
Another one of my most memorable moments was writing the script for our Opening Video during the 2014 Stanley Cup playoff run and having actor Liam Neeson — who is a Rangers fan — narrate the video. He was happy to do it. We recorded it in studio, and he worked with us again this past season.
One particular moment that meant a great deal to me was having former Canadian diplomat Ken Taylor and his wife Pat attend a Rangers game vs. Calgary in February 2015. As a Canadian, I know the history behind the 'Canadian Caper' and what Mr. Taylor meant to our country and the world.
It was a great honour to write and direct our acknowledgment of Ken and Pat to the Rangers' fans. Rightfully so, they received a standing ovation."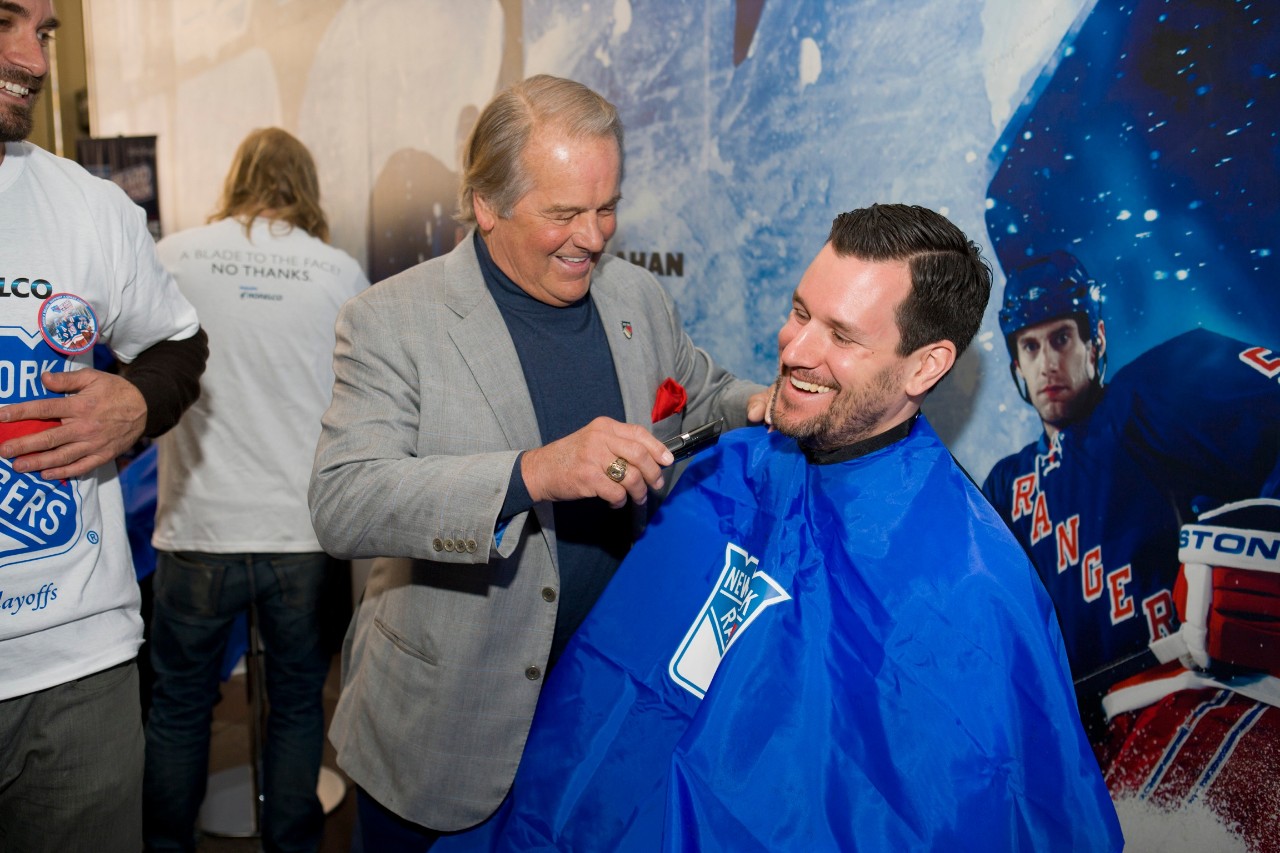 Greg Kwizak is pictured about to get a close shave from New York Rangers legend Rod Gilbert at the kick-off of a beard-a-thon fundraiser. Photo credit: Rebecca Taylor/MSG Photos
6. What's it like meeting rock stars and hockey greats?
GK: "I wouldn't say I get star struck, but one day during my third year here, one of my colleagues and I got a meal in the press room before a pre-season game vs. Detroit. We walked over to the last table with two free seats and asked if we could join the table.
I sat down and looked up and it's Gordie Howe sitting across from me! It was such a surprise and we all had a great conversation. He was the kindest gentleman.
When we were done with dinner I told him, 'Thank you Mr. Howe, it's such an honour to meet you and share dinner with you. I appreciate you letting us join you.' And he said, 'How about an autograph?' And he pulled out a Mr. Hockey card!
In our business we never ask for autographs. I said, 'No, no, it's okay. You've only got a couple of cards in your hand there, save them for the kids.' And he turned to me and said, 'Hey, at my age you guys are all kids!'
We all laughed as Mr. Hockey signed the cards and handed them to us."
7. How did studying at Concordia help you ascend one of the NHL's top hockey franchises in one of the most competitive cities in the world?
GK: "I took a non-traditional route: I did a year at Concordia, then decided to pursue an opportunity working [on the entertainment staff] at Walt Disney World [in Florida]. After several years, I returned to Concordia to complete my communications studies degree.
Disney taught me the entertainment side of things, while Concordia provided a solid foundation in production; especially as it relates to video and film, sound editing and storytelling.
I took a lot of journalism classes and did a minor in philosophy. I wrote and produced my own short films, one of which was produced in affiliation with the National Film Board of Canada.
Concordia really gave me the tools and awareness to build a foundation in production."
#CUalumni
Find an expert
Search for an expert to comment on any topic
Enter a phrase or keyword
---