'We encourage students to conduct research on real, pressing and relevant problems'
JMSB appoints Zeynep Arsel as the first director of its Master of Science and Master of Supply Chain Management programs
Posted on August 28, 2017
|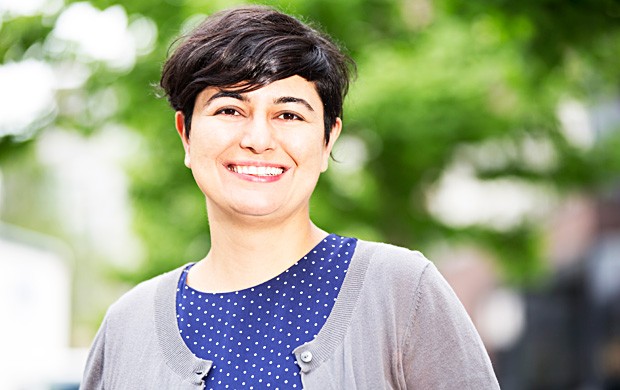 Zeynep Arsel: "My vision is that our programs become globally recognized destinations."

It's rare to find a master's degree in business that includes an empirical research thesis.
"That's just one of the things that gives us an advantage," says Zeynep Arsel, the new director of Master of Science (MSc) Master of Supply Chain Management (MSCM) programs at the John Molson School of Business (JMSB).
The appointment is for a three-year term.
"Another factor that makes our programs next-generation is our faculty's unique and cutting-edge interests. We encourage students to conduct research on real, pressing and relevant problems."
An enthusiastic advocate, Arsel has served on the MSc departmental committee since 2010. She was the student faculty advisor from 2010 to 2013 and she has taught a qualitative research methods seminar in the programs since 2015.
"My vision is that our research-based MSc programs in finance, management and marketing, as well as the MSCM, become globally recognized destinations," says Arsel, who first joined Concordia in 2007 as an expert in consumer culture theory.
"On a personal level, they're dear to my heart and I'd love to see them continue to flourish."

'We have a curriculum that facilitates specialization'
Students accepted into the MSc and MSCM programs at JMSB don't necessarily come in with an undergraduate business degree. The department has accepted applicants with an academic background in psychology, sociology, biology, engineering and more.
"Our degrees are sought after because jobs are becoming more specific — more niche," says Arsel, who holds the Concordia University Research Chair in Consumption and Markets.
"With an MSc or an MSCM, you can become 'the expert,' diving into one aspect of your field. You can be the person who has studied fonts, for example, or sensory marketing."
In her new role as director, Arsel has a game plan.
"First, I'm meeting with various stakeholders — chairs, students, alumni, department representatives — to better understand the topography and broaden my perspective beyond my own department. What I learn in those meetings will decide the priorities."
However, Arsel has one priority already locked down.
"I want to get the word out that we have a curriculum that facilitates specialization, which is rare," she says.
"Students gain a combination of research and practical skills. Most are able to publish their findings. That's extremely important in a job market that's looking for experts more than generalists."

Find out more about the Master of Science (MSc) Program and the Master of Supply Chain Management (MSCM) Program at Concordia's John Molson School of Business.