Top 5 things to do in Montreal this month
DON'T MISS: An Italian feast, alfresco drama and a boat ride across Rivière-des-Prairies
Posted on August 8, 2017
|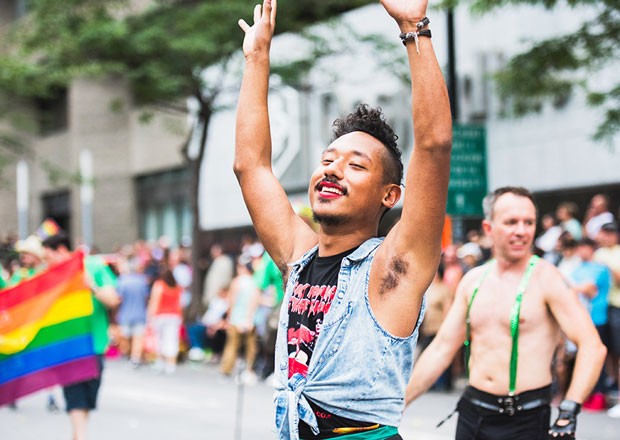 Montreal Pride 2016 | Photo: Alison Slattery

1. Get outside with the Bard
Shakespeare-in-the-Park 2017 | Repercussion Theatre | Various locations | Until August 15, starting at 7 p.m.
Catch Repercussion Theatre's alfresco presentation of Shakespeare's romantic comedy Much Ado About Nothing. The famed play has all the necessary ingredients for a well-balanced drama: naive lovers, gossip, and a pinch of treachery.
2. Pride goes national
Canada Pride Montreal 2017 | Montreal Pride | Various locations | August 10 to 20
This year, as Canada marks its sesquicentennial anniversary, Pride Montreal is hosting its own Canada Pride event, a huge celebration that will take place over 10 days right in the core of Montreal.
From sporting events to free outdoor performances and a major conference on queer human rights, Canada Pride is a forum to celebrate and promote the city, and the country's, diversity.
Find out more about what to expect at the first edition of Canada Pride.
3. A river runs through it
Navigate the Skawanoti | 375th anniversary of Montreal | Leaving from Maison Pierre-Chartrand | August 19, 20, and 27 starting at noon
La rivière des Prairies was once known to the Huron people as Skawanoti, which means the river behind the island. As part of the city's 375th anniversary, you're invited to join a free boat ride across the river, followed by a guided bus tour of Rivière-des-Prairies–Pointe-aux-Trembles, including a visit to the historic Maison Pierre-Chartrand.
Be sure to register in advance!
Find out more about navigating the Skawanoti.
Photo courtesy of
Design Montréal

4. Party with the alley cats
Chats de ruelles | 375e anniversaire de Montréal | Locations vary | Saturdays at 12:30 p.m. and Sundays at 10 a.m. until September 17
Explore Montreal's notable nooks and crannies this month with Chats de Ruelles, a series of parties held in different back alleys across the city. From urban agriculture workshops to circus performances, discover what awaits you off the beaten track.
Find out more about Chats de ruelles.
5. Viva l'Italia!
Italian Week 2017 | Festival | Various locations across Little Italy | August 4 to 13
Celebrate Little Italy's beauty and diversity with food, fashion and fun at this year's Italian Week Festival. From outdoor operas to fashion shows and musical performances, experience la dolce vita right here in Montreal.
Find out more about Italian Week.


Stay up to date with what's going on in Montreal: subscribe to La Vitrine's newsletter.