Concordia maintains 'the highest standard of achievement for business schools worldwide'
AACSB International upholds its accreditation of the John Molson School of Business for the next 5 years
Posted on April 26, 2017
|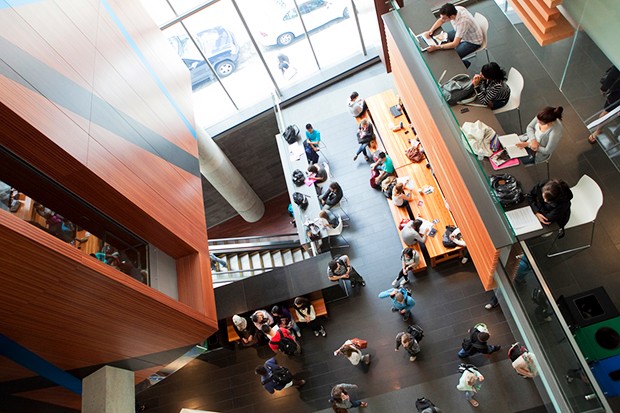 Accreditation by the Association to Advance Collegiate Schools of Business (AACSB) International is considered the hallmark of excellence in business education.
In 1997, Concordia's John Molson School of Business (JMSB) became the first business school in Montreal and only the fourth in Canada to receive the endorsement. This month, the association announced that JMSB's status will be maintained for another five years.
Founded in 1916, AACSB International is the oldest accrediting body in the field of business education. Schools that apply for accreditation undergo intensive examination, involving separate evaluations of each degree program to ensure they meet the highest quality standards.
The goal of accreditation is to guarantee that programs have the curriculum, staff, resources and mechanisms for the continuous improvement necessary to provide an excellent business education.

'Great progress'
Once institutions earn accreditation, they must demonstrate a commitment to quality and continuous improvement through a rigorous and comprehensive peer review every five years. During their two-day visit in March, AACSB reviewers met with nearly 100 JMSB stakeholders.
"The review team was particularly impressed with our Assurance of Learning process," says Isabelle Dostaler, professor of management and JMSB's director of AACSB accreditation.
"It ensures that students achieve the learning goals of the programs in which they are registered."
Since the last AACSB visit in 2012, JMSB has completely revised two of its MBA programs. It also began implementing a strategic plan that has significantly enhanced the student experience through improvements to the curriculum and an increase in experiential learning offerings.
"The reviewers felt we made great progress over the course of the last five years," Dostaler adds.
"The team found our process for continuous improvement both rigorous and innovative."

'A terrific accomplishment'
During one of the meetings, Dostaler says, a member of the review team told her that the students he met at Concordia "blew his mind."
He noted that their level of enthusiasm, engagement and involvement in extracurricular activities was extraordinary.
"This is a terrific accomplishment and confirms that our strategic plan aligns with international academic standards," says Stéphane Brutus, interim dean of JMSB.
"We all know that JMSB is a great school. But having it confirmed by the organization that represents the highest standard of achievement for business schools worldwide is something we can all be very proud of."

Find out more about the John Molson School of Business.