Yes, it's Earth Day at Concordia! Two days early
This April 20, ride your bike to campus — and learn how to perform your own spring tune-up!
Posted on April 18, 2017
|
By: Isabelle Mailhot-Leduc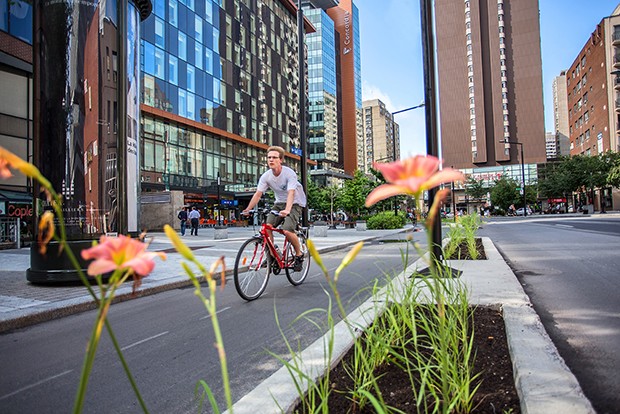 Did you know that Concordia has indoor bike parking on the Sir George Williams Campus?

Two days before the global main event, Concordia is holding an early Earth Day celebration, and this year the focus is on the benefits of cycling.
Environmental Health and Safety (EHS) is hosting a bicycle awareness day with a drop-in maintenance workshop from 12 to 2 p.m. on Thursday, April 20. The event is a collaboration with the on-campus community bike shop Right to Move.
The session will take place downtown, on Concordia's Sir George Williams Campus, along the wall of the Hall Building on Mackay Street near De Maisonneuve Blvd.
The EHS Sustainability team hosting the workshop will also be handing out information on biking facilities at Concordia.

A bike-accessible university
This past November, Concordia received a silver medal from Vélo Quebec for its efforts in accommodating cyclists travelling to and from the Sir George Williams Campus.
If you're interested in riding your bike to class or work, Concordia has a secure indoor bike parking facility underneath the J.W. McConnell Building.
Membership comes with access to bike tools, individual lockers and showers at Le Gym.
Don't own a bike?
There are currently six BIXI stations across the Sir George Williams Campus and one at Loyola. Until June 1, Concordians receive 20 per cent off BIXI annual memberships. For more information on how to register, check out the BIXI section of Concordia's Sustainable Transportation web page.

Earth day prizes
Following Concordia's recent adoption of a sustainability policy, there's a renewed focus on incorporating sustainability into the organizational planning and operations of the university.
In order to create sustainability plans that reflect the needs and wants of the university community, a consultation process is taking place to gather information from all Concordians who wish to share their thoughts, ideas, insights and comments.
Provide your take on the top sustainability priorities at the University and get a chance to win one of four $50 gift certificates from Mountain Equipment Coop.
On April 20, go to one of these four locations to fill out the survey and enter the draw:
The Hive Café in the mezzanine of the Hall Building (SGW)

Beside the Hall Building, corner of Mackay and de Maisonneuve Blvd. (SGW)

The Hive Café on the second floor of the Student Centre building (LOY)

The CJ Café (LOY)

What's your opinion on Concordia's university-wide sustainability plans? Provide your take online.
Find an expert
Search for an expert to comment on any topic
Enter a phrase or keyword
---