Di-Octo: Mesmerizing, kinetic and unique
Chancellor, business leader and philanthropist Jonathan Wener, BComm 71, and wife Susan donate next-generation, eight-metre-high kinetic sculpture to city and Concordia for Montreal's 375th and Canada's 150th anniversaries
Montreal, September 28, 2017 - The towering new Di-Octo sculpture outside the southwest corner of Concordia's Henry F. Hall Building is unique and enthralling.
Countless passersby are taking photos and videos of the kinetic artwork, generously donated to the city and the university on the occasion of Montreal's 375th and Canada's 150th anniversaries by Concordia Chancellor Jonathan Wener, BComm 71, founder, chairman and CEO of Montreal-based real estate firm Canderel, and his wife, Susan Wener.
Di-Octo, created by renowned American artist Anthony Howe, was unveiled on Mackay St. and De Maisonneuve Blvd. W. on September 28, 2017.
"I chose Concordia's Sir George Williams Campus as the site for Di-Octo because it was here that I began my journey as a student — before embarking as a businessman and real estate developer," says Wener. "It is here, in 1971 at the Henry Hall F. Building, that I met my dear wife Susan on her very first day at freshman orientation."
The eight-metre-high, 725-kilogram sculpture represents a significant contribution to Concordia's collection of public art.
The piece comes alive as the wind blows, stretching out with open arms and reopening its stainless-steel tentacles ad infinitum. Wener chose Di-Octo because of its kinetic action, mesmerizing and dynamic nature. "It's hypnotic," he says.
It only takes two kilometres an hour of wind to activate its moving parts — and it works in near complete silence. "Di-Octo is a beautiful, original sculpture whose graceful folding arms are a symbolic greeting for students, faculty, staff, alumni and visitors," Wener says. "What better way to welcome everyone to our great university, city, province and country?"
Concordia President Alan Shepard is grateful for the distinctive artwork. "Jonathan and Susan Wener have given our university, city and province an exceptional, next generation artwork," he says. "Di-Octo is a striking visual metaphor for Concordia's strategic direction to embrace our city. This sculpture is a feat of engineering that will allow Concordians and Montrealers to contemplate the role of art in our society. And I love it! I can watch it from my office and it's mesmerizing."
It was France Chrétien Desmarais, LLD 15, prominent Montreal lawyer, businesswoman and president of the Society for the Celebration of Montreal's 375th Anniversary, who helped convince Wener to donate an artwork to honour the city's 375th and Canada's 150th anniversaries.
Wener chose to make Concordia its home. "I love my alma mater," he says. "My most passionate, benevolent work is done at the university. I have always loved public art, going back to my very first buildings in 1980. This opportunity seemed such a wonderful confluence of events to celebrate our history with another piece of magnificent sculpture by an internationally famous artist."
He discovered Anthony Howe's work through his daughter, Katherine (Kassy) Wener, who was given the family mandate to find a sculpture that would be truly inspirational. "She was as moved and excited as Susan and I were by Anthony Howe's genius and creativity," says Wener.
Coincidentally, Howe's piece was being fabricated at Show Canada, a steelworks company in Laval, Que. Howe and Show Canada were also responsible for the centrepiece cauldrons at the 2016 summer Rio Olympics in Brazil. The Weners visited Show Canada and witnessed the indoor display of Di-Octo. "When the sculpture came to life in front of an industrial-strength fan, we were amazed," he says. "It was mesmerizing."
"My hope is that Di-Octo will establish itself alongside other Concordia works as an essential piece of Concordia's collection and a Montreal landmark," adds Wener.
Bram Freedman, vice-president of Advancement and External Relations at Concordia, says the gift of this artwork demonstrates exemplary school spirit from its benefactors.
"Jonathan and Susan have repeatedly given back to Concordia over the decades," he says. "Jonathan embodies our ninth strategic direction to take pride in our university. Through his Di-Octo gift, our chancellor and his wife have given our university, city, province and country an artwork that is certain to become iconic."
Welcome addition to public art
Clarence Epstein, senior director of urban and cultural affairs at Concordia, says Di-Octo joins a wider public art strategy developed 15 years ago.
The university features one of the largest public art collections for a public institution. Examples include Genevieve Cadieux's Lierre sur Pierre, the anodized metal vines climbing up Concordia's Molson Building's northern façade on De Maisonneuve St. There's also Adad Hannah's Leap, the giant image displayed on the glass windows of the PERFORM Centre on the Loyola Campus.
The addition of Di-Octo is a powerful reaffirmation of the role of public art at the university. "This gift from Jonathan Wener helps Concordia position public art on a major intersection that commands a lot of attention," Epstein says. "Our university is making a statement about the role of art in its curriculum and its institutional mandate."
About Anthony Howe
Born in Salt Lake City, Utah, Howe attended Cornell University and the Skowhegan School of Sculpture and Painting. He now lives on Orcas Island, Wash., with his business partner and wife, Lynne. He's sold works to hundreds of private collections from California to the Middle East.
He designs and makes the majority of all his sculptures without the help of assistants, with the exception of some recent largescale works fabricated by the Walla Walla Foundry, Show Canada and Hüttinger of Germany.
About Show Canada
Quebec-based Show Canada, which has 300 employees on four continents, has grown through the design, engineering and fabrication of fully automated scenic and specialized architectural elements for clients and venues such as Cirque du Soleil and several Olympic Games.
The company has some ties to Concordia. Jean Labadie, Show Canada president and CEO, attended the university; Sol Lorenzo, Show Canada vice-president, taught a "Design of Steel Structures" course in the Faculty of Engineering and Computer Science last spring; and Daniel Pharand, BComm 78, is Show Canada manufacturing manager.
Source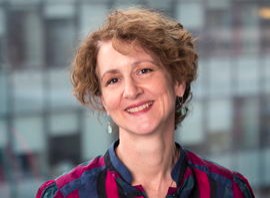 Media Contacts
Sylvain-Jacques Desjardins
Director of Communications
Advancement and Alumni Relations
514-848-2424, ext. 4977
s-j.desjardins@concordia.ca
Find an expert
Search for an expert to comment on any topic
Enter a phrase or keyword
---