2017 Spring Convocation
Yesterday's convocation ceremony was a wonderful event! We had a very nice turnout of History faculty to celebrate our students' success and we got to hear an inspiring convocation address by honorary doctorate recipient Senator Chantal Petitclerc. And I had my picture taken with four of our graduating class: Mab Coates-Davies, Cassandra Marsillo, Olivier Paré, and Althea Thompson.
And on behalf of the Department, I want to offer the heartiest of congratulations to our award winners:
Lachlan MacKinnon – winner of the Governor General's Gold Medal Prize and Concordia University Distinguished Doctoral Dissertation Prize (in Fine Arts, Humanities and Social Science Programs);
Jason Butters – winner of The Edward Eastman McCullough MA History Award (best History MA thesis);
Clara Cariou – who was awarded The Malone Medal (awarded to the undergraduate graduating student (Spring Ceremonies) whose efforts and dedication best exemplify the values of the University within the internal Concordia Community);
Olivier Paré – winner of The Martin Lewis Memorial Book Prize in History (highest ranked History undergraduate).
These and all our graduates have done us proud!
Dr. Peter Gossage
Chair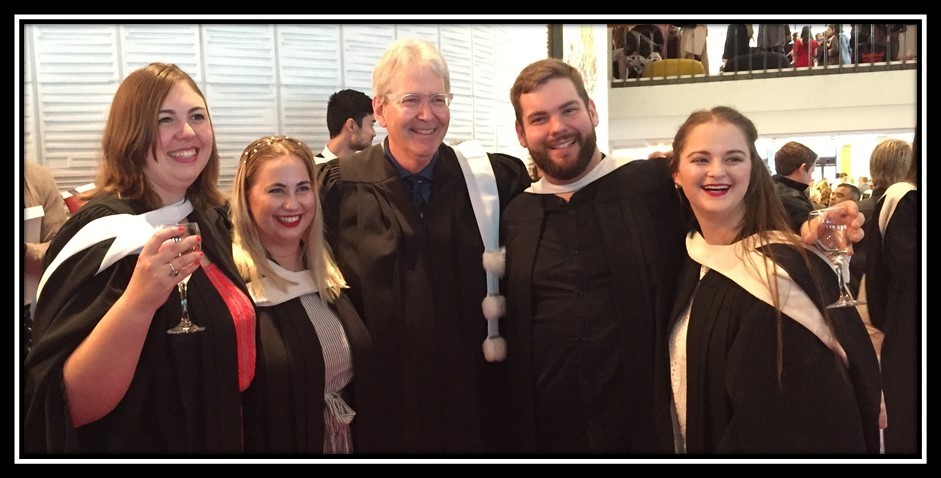 From left to right: Mab Coates-Davies, Cassandra Marsillo, Dr. Peter Gossage, Olivier Paré, Althea Thompson.
Find an expert
Search for an expert to comment on any topic
Enter a phrase or keyword
---