Discover the exciting and provocative world of visual sociology
Numerous activities open to the public for the International Visual Sociology Conference, June 19 - 22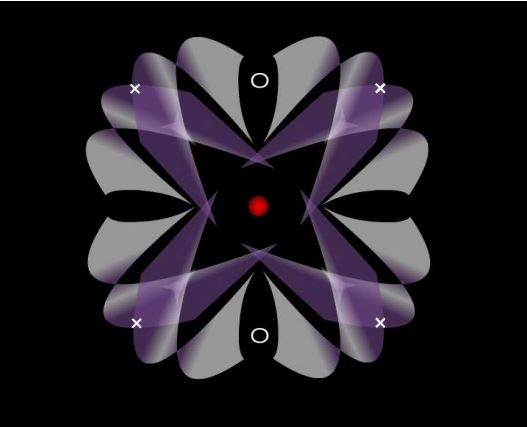 Artist Patricia Search challenges assumptions around how to organize information. Screen Designs from Metaframes. Copyright 2017 Patricia Search. All rights reserved.
The 35th International Visual Sociology Conference - Framing/Reframing Visual Sociology, Goffman & the Everyday – is coming to Concordia from June 19 to 22.
If you are not one of the 300 plus international scholars signed up for the conference, there are numerous free events geared to the public that you can take advantage of.

Art, movies and international experts
Kicking off the opening reception on June 19 will be A Stereoscopic, Animated Abstract Visualization of the Grey Nuns Chapel created by the Possible Movements Research Group. This 3D video projection will be screened in the stunning Grey Nuns building immediately following the Opening Plenary by Jody Berland.
On June 20th all are invited to a screening of Ka-Ching: Pokie Nation, an acclaimed documentary that looks at the science behind highly addictive slot machines. The screening will be followed by a roundtable featuring gambling addiction experts Sylvia Kairouz and Eva Monson.

The following day, take advantage of a special screening of Documentary Film as Visual Sociology: A Retrospective on Dr. John Grady's Work. This film delves into how visual sociology might contribute to our understanding of social organization and change through the research of leading academic John Grady.


The big day for art will be Thursday, June 22, beginning at 10:00 a.m. with the morning coffee break, which will be relocated just outside Concordia's famous "Black Box" experimental space deep in the belly of the EV building.
The line-up begins with an interactive multimedia installation by American artist Patricia Search. Metaframes: Multisensory Spatial and Temporal Paradigms for Interactive Knowledge Building challenges assumptions around how to organize information. Using projection and audio, this work invites participants to remix vibrant visual patterns and sounds. Through a playful engagement, participants are encouraged to abandon the tendency to make sense of the world through hierarchies and instead embrace information as dynamic patterns and relationships.
This will be followed by two sensuous video screenings. Urban Arctic: Kirkenes, by artist Victor Frankowski and Sakatti by Maija Lassila and Petri Luukkainen who explore Scandinavian borderlands. Through rich, affective imagery, these works explore global networks of mining, shipping, tourism and migration.
The closing reception will take place that same evening in Concordia's spectacular Milieux Institute for Arts, Culture and Technology. Ten international artists will be featured as part of the closing festivities, immediately following the closing plenary by Akosua Adomako Ampofo. A range of multimedia installation, bookwork, photography, video and web-based work will be on display.
For a full description of screenings, plenaries and art exhibits visit the conference website.
Find an expert
Search for an expert to comment on any topic
Enter a phrase or keyword
---