State of Flux: Media's Next Moves
Presented by the Canadian Journalism Foundation in cooperation with the Luc Beauregard Centre of Excellence in Communications Research
September 27, 2017, 7 p.m. – 8:30 p.m.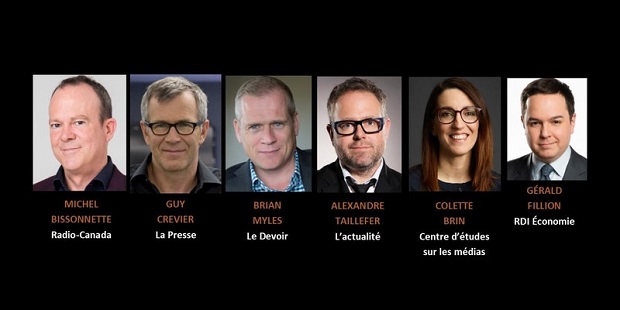 In this ever-shifting media landscape, news organizations are anxiously seeking stable footing. What bodes best for a sustainable future for journalism: government support, tax breaks or new business models?
On this panel, organized by the Canadian Journalism Foundation in cooperation with the Luc Beauregard Centre of Excellence in Communications Research at Concordia University's John Molson School of Business, leaders of Quebec's top news outlets will discuss future media strategies: Michel Bissonnette, executive vice-president for Radio-Canada; Guy Crevier, publisher of La Presse; Alexandre Taillefer, managing partner of the investment fund that owns L'actualité; and Brian Myles, publisher of Le Devoir . They will be joined by Colette Brin, director of Université Laval's Centre d'études sur les medias. Gerald Fillion, host of RDI Économie, moderates.
This discussion will be conducted in French.
---
Cost
General admission: $20 Students: $10
Category
Conferences & lectures
---