Looking forward to becoming active, staying fit? Perhaps just taking some personal time to relax and re-focus? Then our fitness and relaxation offerings may be just what you are seeking.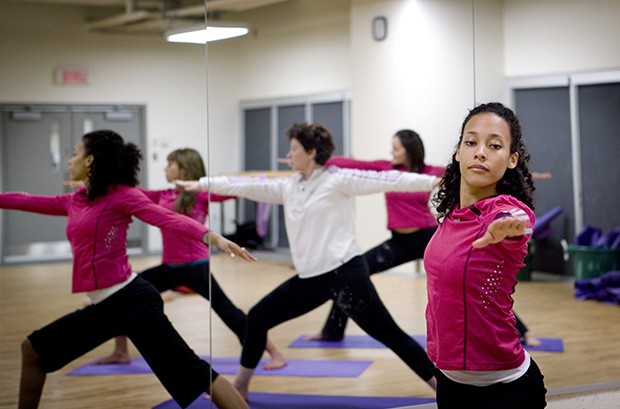 Core-Fusion incorporates and focuses upon three disciplines; Functional Movement, Core Activation and Yoga instructional techniques to isolate and improve your core, legs and balance ability. Participants will be challenged using various techniques and apparatus including; Stability Balls, Weights and Glide Discs. Running shoes are recommended for this class. All levels are welcome!
Pilates is an exercise program that focuses on the core postural muscles that help keep the body balanced and are essential to providing support for the spine. A CanSTAT Certified Alexander teacher, Ms. Malec incorporates some of the principles of the Alexander Technique into the class. Using slow, controlled movements, Pilates focuses on core muscles to improve posture, and maintain optimal fitness. It is an effective way to tone muscles and increase strength and flexibility.
Pilates (Int/Adv)
Builds on the fundamentals of basic Pilates; a challenging workout designed to build core strength, increase stamina and flexibility. Participants should be familiar with beginner levels Pilates and the classical mat exercises performed. The class will incorporate complex & challenging variations of classical moves as well as introduce new exercises to expand your practice of Pilates.
The course fusions the techniques of contemporary dance, yoga, chakras (centres of energy) and images. A typical class emphasizes movement, based on respiration & body posture all while accompanying music. Through fluid sequences of continual poses & postural movements, body toning & relaxation are highlighted; as well as body awareness, in search of balance of interior and exterior space.
Sweat. Discover. Transform. You will build up a natural SWEAT in this 60-minutes power vinyasa class. DISCOVER new strength, flexibility and mental clarity. TRANSFORM your limiting thoughts into new possibilities that will awaken your spirit and leave you rinsed and renewed. All classes are inspired by the Journey Into Power sequence from Baptiste yoga. New and experienced yogis welcome.
40+ Fitness is a special program designed for individuals who are close to or over 40 years of age.
After the age of 30, muscle mass begins to decrease and we often begin to realize that simple, everyday tasks like climbing stairs, running for a bus or lifting objects are becoming a bit more difficult.
40+ Fitness is designed to replace long cardio sessions with simple and manageable 40 minute modules that incorporate moderate intensity interval training in a small group setting. Replacing high-tech gym equipment, your own body is the star and focal point as body-focused training is presented utilizing simple movements and support equipment.
Benefits
Improved neuromuscular coordination.
Burn more calories than cardio alone.
Boost metabolism by retaining or increasing muscle mass.
Increase functional strength.
Improve bone strength and combat osteoporosis.
Improve joint stability, flexibility and balance.