Concordia recreation offers a wide range of innovative and popular classes for your dancing pleasure. Fall classes are the best avenue for newcomers wishing to learn or improve their technique and proficiency in a low-key instructional setting.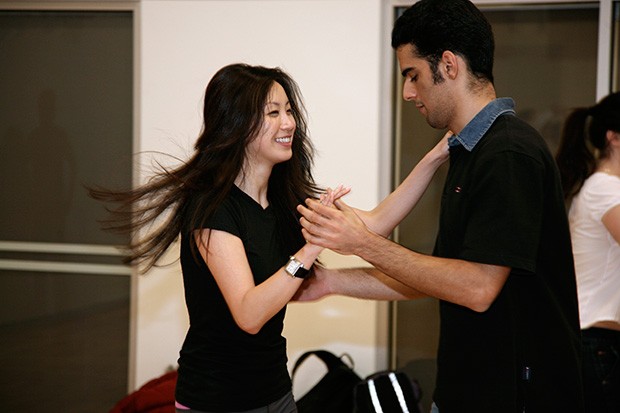 Learn the basics of belly dancing and get a workout at the same time! Belly dancing is a great workout as every part of the body is involved in the dance. Most of the movements in belly dancing involve isolating different parts of the body (hips, shoulders, chest, stomach etc.), which appear similar to the isolations used in jazz ballet, but are often driven differently. In much of belly dance there is a focus upon the core muscles of the body producing the movement rather than the external muscles of the body. Correct posture is as important in belly dance as it is in other fields of dance. In most belly dance styles, the focus is on the hip and pelvic area. Due to the diversity of styles and 'origins' of the dance, many of the moves are referred to by a wide variety of different terminologies. However, from an observer's point of view belly dance includes certain key elements. Belly dance takes many different forms depending on country and region, both in costume and dance style, and new styles have evolved in the West as its popularity has spread globally.
Dynamic stretching workout inspired by ballet that simultaneously lengthens and strengthens the muscles, resulting in greater joint mobility and better posture. The program works through the muscle chains to relieve tensions and improve flexibility.
Hip-hop dance refers to dance styles primarily danced to hip-hop music or that have evolved as part of hip-hop culture. This includes a wide range of styles notably breaking, locking, and popping which were created in the 1970s by African Americans. What separates hip-hop dance from other forms of dance is that it is often freestyle in nature and hip-hop dancers frequently engage inbattles—formal or informal freestyle dance competitions. Informal freestyle sessions and battles are usually performed in a cipher, "a circular dance space that forms naturally once the dancing begins." These three elements—freestyling, battles, and ciphers—are key components of hip-hop dance.
Kizomba is the result of an evolution. It describes both, a music style and a dance style. Kizomba is an Angolan word which means "party" in the Kimbundu language. Kimbundu is one of the most widely spoken languages in Angola within the ethnic group called Bantu.
Music: Kizomba music was born in late-1970s Africa. On this basis, kizomba music emerged as a more modern music genre with a sensual touch mixed with African rhythm and Haitian Kompa. Unlike Semba, Kizomba music is characterised by a slower and usually very romantic rhythm. Most kizomba songs are sung in Portuguese.
Strut With Me is a dance class that has evolved from styles of hip-hop and street jazz queens such as Beyonce & The Pussycat Dolls and provides a FUN full-body workout. In this class, you will learn short combos that vary every week that will provide you with some sassy dance moves you can take anywhere! This kind of movement will increase flexibility and endurance, while toning and strengthening the core, thighs, arms, and glutes.
The best part about it, it is FUN! Grab your dancing shoes and come on down every Friday evening to SWEAT, DANCE, and SMILE!
Salsa is an introductory course, which gives a foundation of movement for students who have had little or no dance experience. In this course, students will learn the basics in 'Salsa and Merengue'. Emphasis will be on the development of partnering skills, lead and follow, the basic principles of timing, as well as basic foot work and variations of simple turn patterns.
Swing A
Everything you need to get out on the floor and have fun! Swing A will yield great results in only a few classes to the inexperienced dancer and make them a hit at any wedding or formal you attend within 2-3 weeks! You will be introduced to steps and styles suited to fast and slow music of every swing genre. You will also be taught enough moves to spice up your dancing and enough technique to make it all work. This class will mainly focus on basic dancing techniques from Lindy-Hop, Charleston and Blues which are applicable to almost any dance style and contains material from Swing I and Swing II of the Studio 88-SWING curriculum.
Swing B
Swing B is a follow-up to Swing A and is adapted to the level of the attendees who are nonetheless expected to have mastered basics of triples, singles and kicks. You will be taught many moves to spice up your dancing and some more subtle and advanced Swing, Lindy-Hop and Charleston techniques. This class contains material from Swing II and Swing III of the Studio 88-SWING curriculum.
The basic elements of the Argentine Tango are taught in this class. If you have never danced Argentine Tango, this is the class to begin with. Walking in harmony, the man & woman facing each other, they embrace the "ocho" or figure eight, forward & backward movements will be covered. Emphasis is placed on the man initiating or leading the woman and the woman responding or following his lead. Musicality and connection are the main objectives of the classes and are acheived through improvisation exercises and sequences. Open to all levels, but geared toward beginners.
Zumba is a mixture of dance and aerobic exercise routines accompanied by popular music, mainly Latin-American, but also featuring hip-hop, soca, samba and world music. Zumba is class for everybody and every class feels like a party.
Not your regular ballet class! It is a course designed for adults with or without a dance background who wish to improve their strength and flexibility in a fun and challenging atmosphere. The course promotes understanding and maintenance of correct posture, helps to develop a range of movements within the student's natural capabilities and develops communication through movement in an artistic way. In this 2-hour multi-level course, we will focus on strength and flexibility in the legs, back and centre corps with exercises that will progressively challenge each student.
Is all about dancing with an attitude! The class consists of a mix of dance routines performed with different styles of music (dancehall, burlesque, pop, hip-hop). It is intended to be fun, allow you to self-express and make you lose some of your inhibitions and burn calories at the same time!