'If you can look at that and you did not see what I saw, then you are blind'
CBC foreign correspondent Nahlah Ayed returns to the department of journalism to share what she'd learned covering the stories of refugees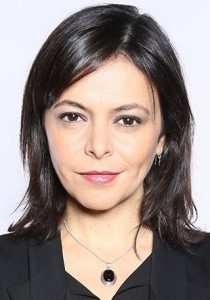 Concordia's department of Journalism was proud to recently host CBC foreign correspondent (and honourary Concordia degree holder) Nahlah Ayed, at an Excellence in Journalism lecture. It was Ayed's third visit to the university.
"Nahlah truly embodies what excellent journalism is all about," said department Chair David Secko, adding, "Our students are lucky to be able to learn from someone of her caliber."
The February 8 talk, Migration, Immigration, Refugees: Sorting fact from fiction saw Ayed sharing many of her experiences reporting on refugees throughout the world. Ayed noted that her earlier reporting didn't always get much attention, with editors turning down a book proposal on the topic because they didn't think it would sell.
However, public attitude shifted dramatically in the summer of 2015, when the Syrian refugee crisis came to international attention. The heartbreaking image of young Syrian refugee Alan Kurdi's lifeless body washed up on a shoreline further spurred calls for action.
"This was a seismic event," said Ayed, noting that the Syrian situation was the first time a refugee crisis was covered on social media. Sadly, some of that coverage included vicious online hate speech. "And this was before you were hearing about 'fake news'."
Ayed also screened clips from a documentary she had done for The Fiifth Estate, where she was granted rare access to film on board The Responder, a ship rescuing people fleeing Libya. Ayed and her team were the first North American crew to document the situation. The sheer number of people being pulled aboard means they were cramped and sleeping together, being rationed one refillable bottle of water at a time. All have risked dying at sea for the chance at a better life in Europe.
When asked by an audience member how to respond to people who might try to frame these stories is an dishonest or dismissive way, Ayed didn't mince words. "If you can look at that and you did not see what I saw, then you are blind," she said, visibly moved.
Ayed encouraged the journalism students present not to be afraid of going after big stories. "How do you measure success?" she asked. "Is it by clicks? Is it by YouTube views? Or, is it what happens two, three, four or ten years down the road?"
And speaking of what happens down the road, Secko says Ayed is welcome back any time. "It's always a pleasure to host her, and we are lucky she keeps coming back!"
Learn more about Concordia's Department of Journalism: http://www.concordia.ca/artsci/journalism.html
Find an expert
Search for an expert to comment on any topic
Enter a phrase or keyword
---