Meet a Montreal music legend
Grammy-nominated alum Howard Bilerman has worked with everybody from Arcade Fire to Leonard Cohen
Posted on March 20, 2017
|
Grammy-nominated drummer, producer, and recording and mixing engineer Howard Bilerman, BA (comm. studies) 94, is perhaps best known for being a former member of Arcade Fire and the engineer for that band's breakthrough album, Funeral, in 2004.
Between 1996 and 2000, Bilerman ran a studio in Montreal called Mom and Pop Sounds before joining forces with Efrim Menuck and Thierry Amar of the musical group Godspeed You! Black Emperor, as well as producer Radwan Moumneh, to found Montreal's storied Hotel2Tango recording studio.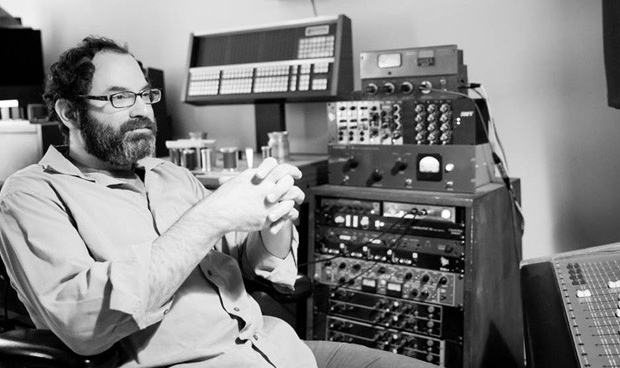 Howard Bilerman in his Hotel2Tango recording studio in Montreal. | Photo: Susan Moss
The prolific Bilerman has worked with more 400 artists, including The Dears, Coeur de Pirate and The Barr Brothers, and even played a role in creating Leonard Cohen's final album, You Want It Darker.
About Cohen, as Bilerman recently recounted to online publication Red Bull Music Academy Daily:
"I got to hang out with Leonard Cohen and see how articulate he was, and how hilarious he was and how generous he was. He never made me feel like less than him. He always gave me room. He listened, he answered. He asked me questions about my family. It was just wonderful."
Bilerman reflects on his career and his time at Concordia.
How did you approach Efrim Menuck and Thierry Amar to create Hotel2Tango?
Howard Bilerman: "I had a bunch of equipment and a steady stream of recording work, but the building I was working out of in Old Montreal was condemned by the city for having no fire-escape, so we were all being evicted.
Around the same time, Thierry and Efrim were looking to expand their studio up at the old Hotel2Tango performance space, so it was a natural fit. We combined all of our gear, built some soundproof walls and opened the Hotel2Tango as a commercial recording studio in 2000.
Also, for trivia, the building in Old Montreal that I ran Mom and Pop out of was the one featured on the cover of the Primitive Air Raid LP, a hugely important — to me — compilation of Montreal bands from the early '80s. It was also home to Steve Kravac's studio at one point and to the Sex Garage raid [in 1990, a turning point for the Montreal LGBTQ community]."
Your resumé reads like a who's who of Canadian and Montreal music: Coeur de Pirate, Godspeed You! Black Emperor, Wolf Parade and Basia Bulat — the list goes on and on. How did you become one of Montreal's go-to recording engineers and producers?
HB: "A lot of it was just being lucky, I think. And then there's the domino effect of recording one band, and another band comes to you because of that.
At the time I started in 1995, there were very few options of artist-run recording studios in Montreal. There was DNA, and the radio station recording studio at Concordia, and a bunch of more-corporate studios from the '70s and '80s that were priced out of reach of most independent musicians.
Most of the friends I had in bands at the time were actually going to Toronto to record their records. Looking back, it was clear that the time was ripe to open a studio catering to independent bands, but really it was built out of the necessity to have somewhere to work, after being denied a job anywhere else!
Also, part of my success hinges on the fact that I've recorded so many different kinds of music, and I try to be open-minded and not judgmental. I firmly believe that for every band making music, there's a group of people that will enjoy it, and it's simply my job to make sure the music translates as good as it possibly can.
For that reason, I have been fortunate to record a lot of records that sound different, but they all sound honest, which begets more recording."
You earned a BA in communication studies. What was your focus?
HB: "I majored in sound. It's why I went to communications studies, actually. Records were a big part of my life growing up, and when I got my first four-track recorder when I was 18, the ability to multi-track felt like having powers to perform magic.
Around that time, an older friend invited me to see a recording studio at Concordia. It was one of the first studios I had ever set foot in. It felt like home immediately."
In a Recording Arts Canada interview, you said about Montreal's indie music scene, "The lack of big industry actually helped the bands here grow in an organic way, as opposed to what all this media attention is doing to bands now." What has all the media attention done to Montreal's music scene, and how would you characterize the Montreal music scene today?
HB: "A band's development is a delicate thing. Ideally, you want the quality of a band's songs and their ability to play them to line up perfectly with them getting attention, and the chance to play them in front of people.
Having too much press and too much attention early on messes with that paradigm, in the same way as not giving glued wood enough time to dry does. And so you have bands thrust into the limelight before they are ready, and that is a disservice to both the bands and the audience.
In today's day and age, things are happening so quickly: a band can go from being completely anonymous, to being heard around the world, literally overnight. I recognize all the good that comes from that, but there is a downside as well.
In terms of Montreal, long before the international press cared about this city, there were exciting things going on. And now that they have moved on to talking about other cities as 'the next,' there are still interesting things going on. Acceptance from the press, while validating, can also be incredibly misleading in terms of what's really going on.
Montreal has always been a city steeped in creativity, and will continue to do so. Having said that, I wish that bands like The Asexuals, The Nils, Three O'clock Train and Sons of the Desert got more international press back in 1986-87. It would have changed the trajectory for those bands because they were ready to be consumed on the world's stage."
You were an engineer on the late Lhasa de Sela's 2009 album Lhasa. Can you share a favourite memory of working with her?
HB: "Actually, most of the work on that record was done by Thierry Amar. I can say this though: Lhasa was one of the bravest folks I have ever met. She discovered that she was sick right at the beginning of recording, but she insisted that she see the record through. It took immense strength, dedication and bravery."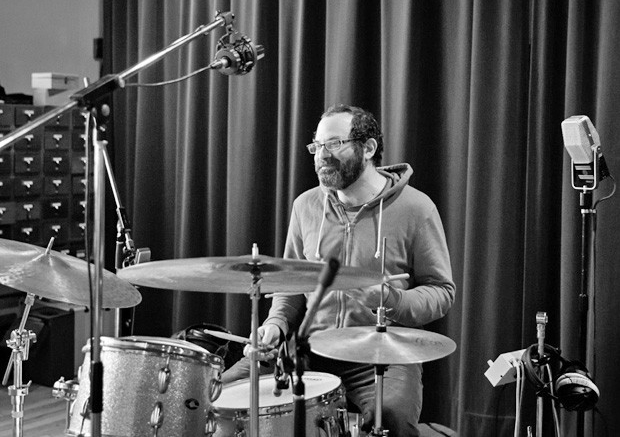 Howard Bilerman played drums on Arcade Fire's debut album
Funeral
. | Photo: Susan Moss
You have described yourself as a kind of production "midwife" in the studio. What is it about being behind a mixing console that gives you pleasure, that makes you excited?
HB: "I describe myself as a midwife because I feel the parallels are spot on.
I like to work without intervention. I recognize that the artist is in charge, and that it's their music, so they have final say. I refuse to make the situation about me, and dictate how things will roll out.
Having seen the delivery of one child in a hospital with a doctor, and another in a birthing centre with a midwife, I had this theory validated by those experiences.
Working with someone who is a team player far more enjoyable than working with a dictator who believes that there is only one way to do things — because there very rarely is only one way to do things.
I try to remain flexible when I'm working on a record, and collaborative. But the most important part of the equation is listening to the artist and serving their music."
Arcade Fire brought you out of drumming retirement — you became a band member, recording and drumming on their debut album Funeral. Why did you join the band before moving on?
HB: "I came to play drums with Arcade Fire when they'd come to record a seven-inch record with me in 2003. The previous version of the band had imploded, and they had lost their drummer. So they came to record this record, but they also had all these shows booked.
So in the middle of recording Win [Butler] said, 'Listen, do you know anyone who plays drums?'
I said to him, 'The only person I can think of who would play drums would be me.' And his reaction is, 'Great, can you do these shows?'
And it snowballed. There were more shows, more songs to record, and a year later we had Funeral recorded."
How did your time and studies at Concordia help shape you and your career?
HB: "Concordia's facilities were where I was able to learn and experiment, for hundreds of hours, under the watchful and supportive eyes of their incredibly faculty. There is equipment that I learnt on in 1991-94 that I still use to this day, some 20-plus years after graduating.
I knew what it was that I wanted to do for a living, and Concordia gave me the springboard to accomplish that."
#CUalumni
Related links
Find an expert
Search for an expert to comment on any topic
Enter a phrase or keyword
---