Alan Shepard, President and Vice-Chancellor
Alan Shepard is president and vice-chancellor of Concordia University and professor of English in Concordia's Faculty of Arts and Science. His term as Concordia's ninth president began on August 1, 2012.
An emerging voice among university leaders, Shepard is rethinking how universities adapt to the changing needs of society, while continuing to foster innovation and entrepreneurship in support of research and higher education. His extensive experience in university administration in the United States and Canada has contributed to his reputation for thoughtful decisive leadership.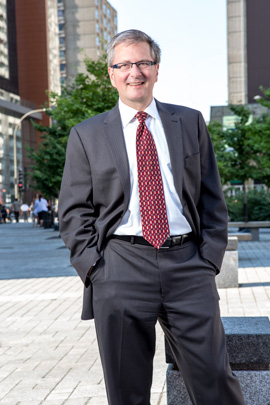 Adaptation and change are also at the heart of his scholarship. As a specialist in Europe's early modern period, Shepard targets the nature of change reflected in theatre, fiction, and social movements. He has also written extensively on topics such as contemporary theatre, theatre and national security, writing and logical argument, and the rapidly changing academic and administrative environment for today's universities.
Former editor-in-chief of the bilingual, multidisciplinary Canadian journal Renaissance and Reformation/Renaissance et Réforme, he has presented and lectured internationally on a variety of scholarly topics and on public policy issues such as innovation, entrepreneurship and transformational change in higher education.
Among his essays and books, Coming to Class (1998), edited with two colleagues in Texas, was nominated by the readers of Lingua Franca as one of the best academic books in the 1990s. His educational experience includes international study at the University of Cambridge, and grants awarded for research and publication projects undertaken at universities in the United States and Canada. He has held fellowships at the Folger Library in Washington D.C., and two leading research centres at the University of Toronto.
Shepard is passionate about refining public policy on higher education and other social issues. He has held recent advisory roles with Ontario Universities International, Public Health Ontario, and the Council of Ontario Universities.
Shepard previously served as Ryerson University's provost and vice-president academic, where he had oversight of academic affairs, strategic planning and the budget. He led a series of transformational initiatives, including the development of Ryerson's academic plan, leading to the creation of a Faculty of Science. Shepard and his team established Ryerson's Digital Media Zone, bringing student-driven projects to market, and the Centre for Urban Energy, a centre for research collaboration with the public and private sectors.
Throughout his career, Shepard has been dedicated to improving the student experience, creating links to local institutions, and supporting innovative and entrepreneurial projects. As associate vice-president academic at the University of Guelph, he led a university-wide curriculum initiative, strengthened retention measures for first-year undergraduates and promoted the internationalism of academic programs. In the United States, Shepard taught and held administrative roles at the University of Virginia and TCU.
He has contributed as a volunteer in community organizations throughout his career. As an undergraduate student, he worked in hospital emergency services in Minnesota. In Virginia, he was a leader in the LGBT community, and in Texas he served on the board of the Walt Whitman School and was involved in a range of public service initiatives.
Shepard earned an undergraduate degree from St. Olaf College in Minnesota, where he won the George Weida Spohn Prize, and a PhD from the University of Virginia. He grew up in Iowa, California, and Minnesota, immigrated to Canada in 2002 and is a Canadian citizen. He lives in Montreal with his partner and their two sons. Shepard's favourite pastimes include travel, theatre, cycling and hiking. Shepard is a board member of the Board of Trade of Metropolitan Montreal for 2012-13.